bar

bar-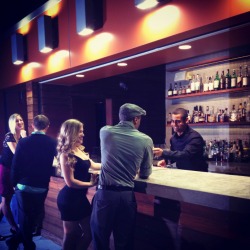 People enjoying drinks at a bar.
noun
The definition of a bar is something that is rectangular in shape.

A piece of gold colored metal on a military uniform is an example of a bar.

A bar is defined as a rectangular counter where food and drinks are consumed, especially alcoholic drinks, or is a place of business where alcoholic drinks are served along with some food items such as appetizers and pizza.

The long part of the kitchen counter where stools are placed so people can eat there is an example of a bar.
A public meeting place where people go to drink beer and sometimes shoot pool or watch sports or dance is an example of a bar.
noun
The definition of bar is the legal profession, or the railing which separates the spectators in a courtroom from the lawyers, judge, jury, and other court personnel.

An example of bar is a state bar association which is an association that regulates the lawyers in a particular state.
An example of bar is when a person passes the exam after attending law school; passes the bar exam.
noun
Bar means something that stands in the way of something or keeps something from happening.

A raised area of sand that prevents tidal forces from reaching the shore is an example of a bar.
verb
To bar is defined as to keep something from happening or to keep people from entering.

When some cows on the road block traffic that is an example of bar.
When you close a door and place a thin metal block to secure it, that is an example of bar.
---
bar
any piece of wood, metal, etc. longer than it is wide or thick, often used as a barrier, fastening, lever, etc.; specif., one of a series of such pieces enclosing a cage, jail cell, etc.

an oblong piece or mass of something solid: bar of soap, chocolate bar
any of various small metal strips worn to show military or other rank

a thing that blocks the way or prevents entrance, departure, or further movement; specif., sandbar
anything that hinders or prevents: illiteracy is a bar to success
a strip, stripe, band, or broad line, as of light or color

the railing enclosing the part of a law court where the judges or lawyers sit, or where prisoners are brought to trial
this part of the law court

a law court or system of courts
any place of judgment: the bar of public opinion

lawyers collectively
the legal profession

a counter at which alcoholic drinks and sometimes food are served
an establishment or room with such a counter
a counter, or an establishment or room with such a counter, at or in which a specified beverage or food is served: a juice bar, espresso bar, sushi bar

barre
the mouthpiece of a horse's bit, or the part of a horse's mouth into which it is fitted
in lace making and other needlework, a loop or tie that connects parts of a pattern

Comput.

a horizontal box, as in a GUI screen, for displaying or typing text

Heraldry

a horizontal stripe on a shield or bearing

Law

the defeat or nullifying of a claim or action
anything that brings this about

Music

a vertical line across a staff, dividing it into measures
a measure
double bar

Track & Field

the horizontal bar used in the high jump or pole vault

Zool.

either of the ends of the wall of a horse's hoof, curving inward toward the center of the sole
Origin of bar
Middle English and Old French
barre
from Medieval Latin
barra,
bar, barrier, probably from Gaulish an unverified form
barros
, the bushy end, akin to Irish
bar,
branch from Indo-European an unverified form
bhoros,
cut wood from base an unverified form
bher-
, to cut with a sharp tool
transitive verb
barred

,

bar′ring
to fasten with or as with a bar
to obstruct by means of a bar or bars; shut off; close
to oppose, prevent, or forbid, as by legal action
to keep out; exclude: he was barred from the contest
to set aside: barring certain possibilities
to mark with stripes
excluding; excepting: the best bar none
raise (or lower) the bar
Origin of bar
< barnoun raise (or lower) a limit, standard, etc.
the basic unit of pressure in the CGS system, equal to the pressure of a force of one million dynes per square centimeter: abbrev. b
microbar
Origin of bar
German from Classical Greek
baros,
weight, akin to
barys,
heavy: see grave
barometer
barometric

barrel
Bar
BAR
---
bar
noun
A relatively long, straight, rigid piece of solid material used as a fastener, support, barrier, or structural or mechanical member.

a. A solid oblong block of a substance or combination of ingredients, such as soap or candy.

b. A usually rectangular slice of any of various flat baked confections that are typically dense in texture.

c. A rectangular block of a precious metal.

Sports

b. A horizontal rod that marks the height to be cleared in high jumping or pole vaulting.

A standard, expectation, or degree of requirement: a leader whose example set a high bar for others.
Something that impedes or prevents action or progress: A poor education was a bar to his ambitions.
A ridge, as of sand or gravel, on a shore or streambed, that is formed by the action of tides or currents.
A narrow marking, as a stripe or band.

a. A narrow metal or embroidered strip worn on a military uniform indicating rank or service.

b. Chiefly British A small insignia worn on a military decoration indicating that it has been awarded an additional time.

Heraldry A pair of horizontal parallel lines drawn across a shield.
Law

a. The nullification, defeat, or prevention of a claim or action.

b. The process by which nullification, defeat, or prevention is achieved.

The railing in a courtroom separating the participants in a legal proceeding from the spectators.
A court or courtroom.
Law

a. Attorneys considered as a group. Used with the.

b. The profession of law. Used with the.

Music

a. A vertical line drawn through a staff to mark off a measure.

b. A measure.

Variant of barre

a. A counter at which drinks, especially alcoholic drinks, and sometimes food, are served.

b. An establishment or room having such a counter.
transitive verb
barred, bar·ring, bars
To fasten securely with a long, straight, rigid piece of material: barred the gate.
To shut in or confine: barred themselves in the basement.
To obstruct or impede; block: barred the access route.
To keep out; exclude: Tourists are barred from this room.

a. To prohibit or prevent (someone) from doing something: Failing the eye exam barred him from driving.

b. To prohibit (an action): The state bars the dumping of waste in the river.

c. Law To nullify, defeat, or prevent (a claim or action).

To rule out; except: Can we bar the possibility of foul play?
To mark with stripes or bands.
preposition
Chiefly British Except for; excluding: This was your best performance, bar none.
Origin of bar
Middle English
barre
from
Old French; see
barre
.
noun
A unit of pressure equal to one million (106) dynes per square centimeter.
Origin of bar
Greek
baros
weight
; see
gwerə-
1
in Indo-European roots.
BAR
abbreviation
Browning automatic rifle
bar.
abbreviation
a. barometer

b. barometric

barrel
Bar.
abbreviation
Bible
Baruch
bar-
---
bar

Noun
(countable and uncountable, plural bars)
A solid, more or less rigid object with a uniform cross-section smaller than its length.

The window was protected by steel bars.

(countable, uncountable, metallurgy) A solid metal object with uniform (round, square, hexagonal, octagonal or rectangular) cross-section; in the US its smallest dimension is .25 inch or greater, a piece of thinner material being called a strip.

Ancient Sparta used iron bars instead of handy coins in more valuable alloy, to physically discourage the use of money.
We are expecting a carload of bar tomorrow.

A broad shaft, or band, or stripe.

a bar of light; a bar of colour

A long, narrow drawn or printed rectangle, cuboid or cylinder, especially as used in a bar code or a bar chart.
A diacritical mark that consists of a line drawn through a grapheme. (For example, turning A into Ⱥ.)
A business licensed to sell alcoholic drinks for consumption on the premises, or the premises themselves; public house.

The street was lined with all-night bars.

The counter of such a premises.

Step up to the bar and order a drink.

A counter, or simply a cabinet, from which alcoholic drinks are served in a private house or a hotel room.
In combinations such as coffee bar, juice bar, etc., a premises or counter serving non-alcoholic drinks.
An official order or pronouncement that prohibits some activity.

The club has lifted its bar on women members.

Anything that obstructs, hinders, or prevents; an obstruction; a barrier.
(computing, whimsical, derived from fubar) A metasyntactic variable representing an unspecified entity, often the second in a series, following foo.

Suppose we have two objects, foo and bar.

(UK, law) The railing surrounding the part of a courtroom in which the judges, lawyers, defendants and witnesses stay
(law, "the Bar", "the bar") The Bar exam, the legal licensing exam.

He's studying hard to pass the Bar this time; he's failed it twice before.

(law, "the Bar", "the bar") A collective term for lawyers or the legal profession; specifically applied to barristers in some countries but including all lawyers in others.
(music) A vertical line across a musical staff dividing written music into sections, typically of equal durational value.
(music) One of those musical sections.
(sports) A horizontal pole that must be crossed in high jump and pole vault
(soccer) The crossbar
(backgammon) The central divider between the inner and outer table of a backgammon board, where stones are placed if they are hit.
An addition to a military medal, on account of a subsequent act
A linear shoaling landform feature within a body of water.
(nautical, hydrology) A ridge or succession of ridges of sand or other substance, especially a formation extending across the mouth of a river or harbor or off a beach, and which may obstruct navigation. (FM 55-501).
(heraldry) One of the ordinaries in heraldry; a fess.
An informal unit of measure of signal strength for a wireless device such as a cell phone.

There were no bars so I didn't get your text.

A city gate, in some British place names.

Potter's Bar

(mining) A drilling or tamping rod.
(farriery) The part of the crust of a horse's hoof which is bent inwards towards the frog at the heel on each side, and extends into the centre of the sole.
Verb
(third-person singular simple present bars, present participle barring, simple past and past participle barred)
To prohibit.

I couldn't get into the nightclub because I had been barred.

to imprint or paint with bars, to stripe
Preposition
Except, with the exception of.

He invited everyone to his wedding bar his ex-wife.

(horse racing) Denotes the minimum odds offered on other horses not mentioned by name.

Leg At Each Corner is at 3/1, Lost My Shirt 5/1, and it's 10/1 bar.
Origin
From Middle English barre, from Old French barre ("beam, bar, gate, barrier"), from Vulgar Latin *barra, of uncertain origin. Perhaps from Old Frankish *bara ("bar, beam, barrier, fence"), from Proto-Germanic *barō ("beam, bar, barrier"), from Proto-Indo-European *bʰAr- ("log, board, plank"). If so, then cognate with Old High German para, bara ("bar, beam, one's cherished land"), Old Frisian ber ("attack, assault"), Swedish bärling ("a spoke"), Norwegian berling ("a small bar in a vehicle, rod"), Latin forus ("gangway, plank"), Russian забо́р (zabór, "fencing, paling, fence"), Ancient Greek φάρος (pháros, "piece of land, furrow, marker, beacon, lighthouse").
Origin
From Ancient Greek βάρος (baros, "weight"), coined circa 1900.
Proper noun
An extinct language of Venezuela.
See also:
bare
---
bar - Legal Definition
n
A legal obstacle or barrier that prevents or destroys a legal action or claim, especially one that prevents the relitigation of an issue or the formation of a valid contract. See also double jeopardy,
estoppel
,
merger
,
plea
, and res judicata.
v
To prevent, prohibit, or act as a bar to.
n
In bar. As a bar to an action. For example, if a defendant in a criminal action was acquitted earlier of the same charges that he is now accused, he may plead double jeopardy in bar.
adj
At bar. Now before the court. For example, an action that is before the court may be referred to as the case at bar.
n
The legal profession in general.
n
A group of attorneys admitted to practice law in a particular jurisdiction or before a particular court or who practice in a common field or area of expertise in the law.
n
The railing in a courtroom that separates the area used by the judge, lawyers, and court personnel to conduct judicial business from the seating provided for observers. See also
bench
.
---