noun
The definition of a hurdle is a barrier that athletes or horses need to jump over during a competition, or an obstacle that needs to be overcome.

A large plastic barrier that an athlete has to jump over during a triathlonis an example of a hurdle.
When you have no money to go to college, the lack of funds is an example of a hurdle that you must overcome before you can attend school.
verb
To hurdle is defined as to jump over barriers.

When you take part in a race where there are a series of 3-foot high barriers on the track that you have to run and jump over, this is an example of a time when you hurdle.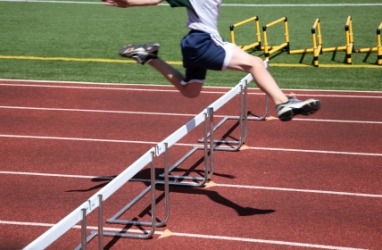 A runner jumps over a hurdle.
---
hurdle definition by Webster's New World
noun
Chiefly Brit.

a portable frame made of interlaced twigs, etc., used as a temporary fence or enclosure
a kind of frame or sled on which prisoners in England were drawn through the streets to execution
any of a series of framelike barriers over which horses or runners must leap in a special race (the )
a difficulty to be overcome; obstacle
Origin: Middle English hirdel ; from Old English hyrdel ; from Germanic base an unverified form hurd-, wickerwork, hurdle, akin to hyrd, door, Frankish an unverified form hurda, a pen, fold ; from Indo-European base an unverified form kert-, to plait, twist together from source Classical Latin cratis (see crate), Classical Greek kyrtos, bird cage
Webster's New World College Dictionary Copyright © 2010 by Wiley Publishing, Inc., Cleveland, Ohio. Used by arrangement with John Wiley & Sons, Inc.
---
hurdle definition by American Heritage Dictionary
noun
Sports

a. A light portable barrier over which competitors must leap in certain races.

b. hurdles A race in which a series of such barriers must be jumped without the competitors' breaking their stride.

c. A leaping step made off one foot as means of maximizing spring at the end of an approach, as to a dive.

An obstacle or difficulty to be overcome: the last hurdle before graduation.
Chiefly British A portable framework made of intertwined branches or wattle and used for temporary fencing.
Chiefly British A frame or sledge on which condemned persons were dragged to execution.
verb
hur·dled
,
hur·dling
,
hur·dles
verb
, transitive
To leap over (a barrier) in or as if in a race.
To overcome or deal with successfully; surmount: hurdle a problem.
verb
, intransitive
To leap over a barrier or other obstacle.
Origin: Middle English hurdel, portable panel for temporary fences, from Old English hyrdel.
Related Forms: