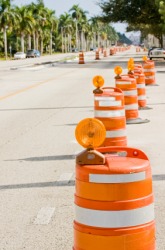 Orange barrels form a temporary barricade.
noun
The definition of a barricade is a barrier that stops the progress of something.

An example of a barricade is a large brick wall preventing people from entering a fortress.
verb
Barricade means to put up a barrier to shut something in or out.

An example of barricade is to build a dam to hold back water from flowing.
---
barricade
a barrier thrown up hastily for defense, as in street fighting
any barrier or obstruction
Origin of barricade
French from Italian
barricata,
past participle of
barricare,
to fortify ( from uncertain or unknown; perhaps French or Spanish
barrica,
barrel, akin to barrel: from use of casks as barriers
transitive verb
-·cad·ed

,

-·cad·ing
to shut in or keep out with a barricade
to put up barricades in; obstruct
---
barricade
noun
a.

A usually improvised structure set up, as across a route of access, to obstruct the passage of an enemy or opponent. See Synonyms at

bulwark

.

b. A usually temporary structure set up to restrict or control the movement of people or conveyances: stood behind the barricades watching the parade.

Something that serves as an obstacle; a barrier: "One of those wild minds who saw bridges where others saw barricades" ( Patricia Monaghan )
transitive verb
bar·ri·cad·ed, bar·ri·cad·ing, bar·ri·cades
To close off or block with a barricade.
To shut (oneself) in by means of a barricade, as for protection or privacy.
Origin of barricade
French
from
barrique
barrel
from
Old Provençal
barrica
from
Vulgar Latin
barrīca
; see
embargo
.
Related Forms:
---
barricade

Noun
(plural barricades)
(figuratively, in the plural) A place of confrontation.
Verb
(third-person singular simple present barricades, present participle barricading, simple past and past participle barricaded)
See also:
barricadé
---