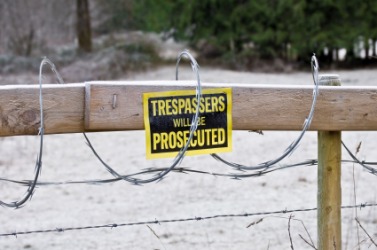 A barrier in the form of a barbwire fence.
noun
The definition of a barrier is anything, either natural or manmade, that keeps something from passing through.

An example of a barrier is a fence.
---
barrier
Obs.

a fortress, stockade, etc. for defending an entrance or gate
a thing that prevents passage or approach; obstruction, as a fence, wall, etc.
anything that holds apart, separates, or hinders: racial barriers, barriers to progress
a customs gate on a country's border
[sometimesB-] ice shelf
[pl.] a high fence of stakes enclosing the area in which a tournament of knights was held; lists

Horse Racing

the movable gate used to keep the horses in line at the starting point
Origin of barrier
Middle English
barrere
from Old French
barriere
from
barre,
bar
---
barrier
noun
A material formation or structure, such as a mountain range or wall, that prevents passage or access.
Something immaterial that obstructs or impedes: Lack of education can be a barrier to success.
Physiology A membrane, tissue, or mechanism that blocks the passage of certain substances.
Ecology A physical or biological factor that limits the migration, interbreeding, or free movement of individuals or populations.
A movable gate that keeps racehorses in line before the start of a race.
often barriers The palisades or fences enclosing the lists of a medieval tournament.
Geology An ice barrier.
Origin of barrier
Middle English
barrer
from
Old French
barriere
from
Vulgar Latin
barrāria
from
barra
bar
---
barrier

Origin
From Old French barriere (cf. French barrière).
---