moat

moat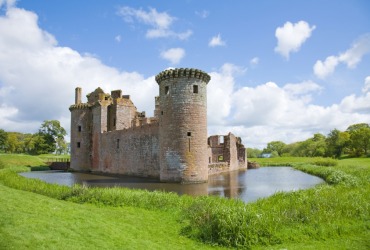 A small castle surrounded by a moat.
noun
The definition of a moat is a ditch often filled with water used to protect a building or other area.

An example of a moat is the water around a castle in Medieval times.
An example of a moat is the water between zoo animals and the visitors.
---
moat
a deep, broad ditch dug around a fortress or castle, and often filled with water, for protection against invasion
Origin of moat
Middle English
mote
from OFr, origin, originally , mound, embankment, probably from Germanic an unverified form
motta,
heap of earth
to surround with or as with a moat
---
moat
noun
A deep wide ditch, usually filled with water, typically surrounding a fortified medieval town, fortress, or castle as a protection against assault.
A ditch similar to one surrounding a fortification: A moat separates the animals in the zoo from the spectators.
transitive verb
moat·ed, moat·ing, moats
To surround with or as if with a moat.
Origin of moat
Middle English
mote
mound, moat (since both mounds and moats form part of fortifications)
from
Old French
mound
Medieval Latin
mota
perhaps of Germanic origin and akin to
English
mud
---
moat

Noun
(plural moats)
A deep, wide defensive ditch, normally filled with water, surrounding a fortified habitation.
An aspect of a business which makes it more "defensible" from competitors, either because of the nature of its products, services, franchise or other reason.
Origin
From Middle English mote, from Old French mote ("mound, embankment"; compare also Old French motte ("hillock, lump, clod, turf"), from Medieval Latin mota ("a mound, hill, a hill on which a castle is built, castle, embankment, turf")), of Germanic origin, perhaps via Old Frankish *mot, *motta ("mud, peat, bog, turf"), from Proto-Germanic *mutô, *mudraz, *muþraz ("dirt, filth, mud, swamp"), from Proto-Indo-European *(s)mut- ("dark, dirty"). Cognate with Alemannic German Mott, Mutte ("peat, turf"), Bavarian Mott ("peat, turf"), Dutch dialectal mot ("dust, fine sand"), Eastern Frisian mut ("grit, litter, humus"), Swedish muta ("to drizzle"), Old English mot ("speck, particle"). More at mote, mud, smut.
---