noun
The definition of a canal is a river or man-made channel of water used for transportation.

An example of a canal is where the floating market in Bangkok takes place.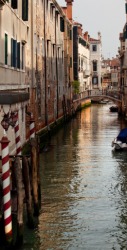 One of the canals in Venice.
---
canal definition by Webster's New World
noun
an artificial waterway for transportation or irrigation
a river artificially improved by locks, levees, etc. to permit navigation
any of the long, narrow lines, visible from earth, on the planet Mars: once thought by some to be canals but now known to be optical illusions

Anat.

any of various tubular passages or ducts
Origin: Middle English pipe or tube ; from Old French ; from Classical Latin canalis, pipe, groove, channel ; from canna, reed: see cane
Webster's New World College Dictionary Copyright © 2010 by Wiley Publishing, Inc., Cleveland, Ohio. Used by arrangement with John Wiley & Sons, Inc.
---
canal definition by American Heritage Dictionary
noun
An artificial waterway or artificially improved river used for travel, shipping, or irrigation.
Anatomy A tube, duct, or passageway.
Astronomy One of the faint, hazy markings resembling straight lines on early telescopic images of the surface of Mars.
transitive verb
ca·nalled
or
ca·naled
,
ca·nal·ling
or
ca·nal·ing
,
ca·nals
To dig an artificial waterway through: canal an isthmus.
To provide with an artificial waterway or waterways.
Origin: Partly French, channel, and partly Middle English, tube (from Medieval Latin canāle), both from Latin canālis, tube, channel, probably from canna, small reed; see cane.
The American Heritage® Dictionary of the English Language, 4th edition Copyright © 2010 by Houghton Mifflin Harcourt Publishing Company. Published by Houghton Mifflin Harcourt Publishing Company. All rights reserved.
---
canal - Medical Definition
noun
A duct, a channel, or a tubular structure.