canal
[kə nal′]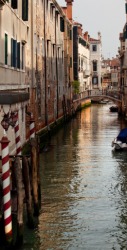 One of the canals in Venice.
noun
The definition of a canal is a river or man-made channel of water used for transportation.

An example of a canal is where the floating market in Bangkok takes place.
---
canal
noun
an artificial waterway for transportation or irrigation
a river artificially improved by locks, levees, etc. to permit navigation
any of the long, narrow lines, visible from earth, on the planet Mars: once thought by some to be canals but now known to be optical illusions

Anat.

any of various tubular passages or ducts
Origin of canal
Middle English pipe or tube ; from Old French ; from Classical Latin
canalis
, pipe, groove, channel ; from
canna
, reed: see cane
---
canal
noun
An artificial waterway or artificially improved river used for travel, shipping, or irrigation.
Anatomy A tube, duct, or passageway.
Astronomy One of the faint, hazy markings resembling straight lines on early telescopic images of the surface of Mars.
transitive verb
ca·nalled
,
ca·nal·ling
,
ca·nals
or
ca·naled
or
ca·nal·ing
To dig an artificial waterway through: canal an isthmus.
To provide with an artificial waterway or waterways.
Origin of canal
Partly French,
channel,
and partly Middle English,
tube
(from Medieval Latin
canāle
), both from Latin
canālis
,
tube, channel
, probably from
canna
,
small reed
; see
cane
.
canal
Llangollen Canal, Wales
---
canal
Noun
(plural canals)
An artificial waterway, often connecting one body of water with another
A tubular channel within the body.
Verb
(third-person singular simple present canals, present participle canaling or canalling, simple past and past participle canaled or canalled)
To travel along a canal by boat
---