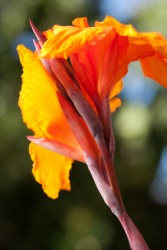 A brilliant orange and yellow canna flower.
---
canna
noun
any of a genus (Canna) of the canna family of broad-leaved tropical plants, often grown for ornament because of the striking foliage and brilliant flowers
Origin of canna
Modern Latin ; from L: see cane
adjective
designating a family (Cannaceae) of monocotyledonous plants (order Zingiberales)
---
canna
noun
Any of various perennial tropical herbs of the genus Canna, having clusters of large showy flowers and including an edible variety.
Origin of canna
Latin
canna
,
cane
; see
cane
.
---
canna
---