family

fam·i·ly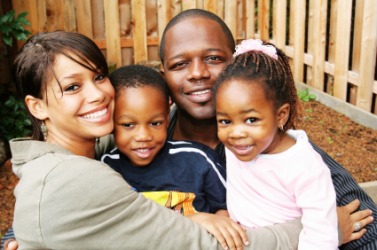 A happy family.
noun
Family is defined as a specific group of people that may be made up of partners, children, parents, aunts, uncles, cousins and grandparents.

An example of a family is a set of parents living with their children.

The definition of family is the group of people who share common ancestors.

An example of family is all the descendants of a specific person.

Family means a group of things that are similar.

An example of a family the group of languages that are considered romance languages.
---
family
noun
pl.
-·lies
Obs.

all the people living in the same house; household

a social unit consisting of parents and the children they rear
the children of the same parents
one's spouse and children

a group of people related by ancestry or marriage; relatives
all those claiming descent from a common ancestor; tribe or clan; lineage
a criminal syndicate under a single leader: a Mafia family
a commune (sense ) living in one household, esp. under one head
a group of things having a common source or similar features; specif.,

Biol.

a major category in the classification of animals, plants, etc., ranking above a genus and below an order: it can include one genus or many similar genera: the Latinized family names are capitalized but not italicized (Ex.: Felidae, cats)

Chem.

a group of chemical elements having similar properties, forming one of the vertical columns of the periodic table

Ecol.

a community composed of organisms of the same species

Linguis.

a parent language and all the languages and dialects descended from it

Math.

a set of curves, functions, or other entities with some shared property
Origin of family
Middle English
familie
from Classical Latin
familia
, household establishment, akin to
famulus
, servant from uncertain or unknown; perhaps Indo-European an unverified form
dhe-mo-
, house ( from base an unverified form
dh?-
: see do) from source Sanskrit
dh?man
, household
of or for a family: a family picnic, the family car
characteristic of or suitable for a family, esp. one regarded as traditional or typical; wholesome, middle-class, etc.: family entertainment
in a family way
Informal
pregnant; with child
---
family
noun
pl.
fam·i·lies
a. A fundamental social group in society typically consisting of one or two parents and their children.

b. The children of one of these groups: She raised a large family.

c.

A group of persons related by descent or marriage:

My whole family, including my cousins, gets together once a year.

See Usage Note at

collective noun

.

People in the same line of descent; lineage: comes from an old Virginia family.
Obsolete All the members of a household living under one roof.
A locally independent organized crime unit, as of the Cosa Nostra.

a. A group of like things; a class: the family of brass instruments.

b. A group of individuals derived from a common stock: the family of human beings.

Biology A taxonomic category of related organisms ranking below an order and above a genus. A family usually consists of several genera.
Linguistics A group of languages descended from the same parent language, such as the Indo-European language family.
Mathematics A set of functions or surfaces that can be generated by varying the parameters of a general equation.
Chemistry

a. A group of elements with similar chemical properties.

b. A vertical column in the periodic table of elements.

Physics Any of the three generations of elementary fermions.
adjective
Of or having to do with a family: family problems.
Being suitable for a family: family movies.
Origin of family
Middle English
familie
from
Latin
familia
household, servants of a household
from
famulus
servant
---
family

Noun
(countable and uncountable, plural families)
(countable) A father, mother and their sons and daughters; also called nuclear family.

Our family lives in town.

(countable, biology, taxonomy) A rank in the classification of organisms, below order and above genus; a taxon at that rank.

Magnolias belong to the family Magnoliaceae.

(countable) A group of people who live together, or one that is similar to one that is related by blood, marriage, law, or custom, or members of one's intimate social group.

This is my fraternity family at the university.
Our company is one big happy family.
They treated me like family.

(countable) Any group or aggregation of things classed together as kindred or related from possessing in common characteristics which distinguish them from other things of the same order.

Doliracetam is a drug from the racetam family.

(countable, music) A group of instruments having the same basic method of tone production.

the brass family;  the violin family

(countable, linguistics) A group of languages believed to have descended from the same ancestral language.

the Indo-European language family;  the Afro-Asiatic language family

Used attributively.

The dog was kept as a family pet.
For Apocynaceae, this type of flower is a family characteristic.
Usage notes
In some dialects, family is used as a plurale tantum.
Adjective
(not comparable)
Suitable for children and adults.

It's not good for a date, it's a family restaurant.
Some animated movies are not just for kids, they are family movies.

Conservative, traditional.

The cultural struggle is for the survival of family values against all manner of atheistic amorality.

(slang) Homosexual.

I knew he was family when I first met him.
---
family - Legal Definition
n
A group of individuals who share ties of blood, marriage, or adoption; a group residing together and consisting of parents, children, and other relatives by blood or marriage; a group of individuals residing together who have consented to an arrangement similar to ties of blood or marriage.
---