kin

-kin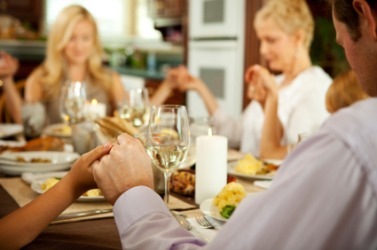 Dinner with ones kin.
noun
The definition of kin is a person's relatives.

An example of kin is your siblings, parents, grandparents, aunts, uncles and cousins.
---
kin
one's family; relatives; kinfolk; kindred
Origin of kin
Middle English
kyn
from Old English
cynn,
akin to Dutch
kunne,
Gothic
kuni,
Old Norse
kyn
from Germanic an unverified form
kunja-
from Indo-European base an unverified form
?en-,
to produce: see genus
related, as by blood: used only in the predicate: she is kin to my brother-in-law
-kin
little (specified person or thing): lambkin
Origin of -kin
Middle English from Middle Dutch
-ken, -kijn,
diminutive suffix, akin to German
-chen
---
kin
noun
a. used with a pl. verb One's relatives or family: visited my aunt and her kin.

b. A relative or family member: Is she kin of yours?

used with a pl. verb Organisms that are genetically related to another or others: cauliflower and its kin.
adjective
Related genetically or in the same family.
Related or similar; akin: "If he feels a wisp of longing for her … it is kin to what the serpent must have felt for Eve" ( Barbara Klein Moss )
Origin of kin
Middle English
from
Old English
cyn
; see
genə-
in Indo-European roots.
-kin
or -kins
suffix
Little one: devilkin.
Origin of -kin
Middle English
probably from
Middle Dutch
-kijn, -kin
---
kin

Adjective
(not comparable)
Related by blood or marriage, akin. Generally used in "kin to".

It turns out my back-fence neighbor is kin to one of my co-workers.
Origin
From Middle English kin, kyn, ken, kun, from Old English cynn ("kind, sort, rank, quality, family, generation, offspring, pedigree, kin, race, people, gender, sex, propriety, etiquette"), from Proto-Germanic *kunją ("race, generation, descent"), from Proto-Indo-European *ǵenh₁- ("to produce"). Cognate with Scots kin ("relatives, kinfolk"), North Frisian kinn, kenn ("gender, race, family, kinship"), Dutch kunne ("gender, sex"), Middle Low German kunne ("gender, sex, race, family, lineage"), German Künne, Kunne ("kin, kind, race"), Danish køn ("gender, sex"), Swedish kön ("gender, sex"), Icelandic kyn ("gender"), and through Indo-European, with Latin genus ("kind, sort, ancestry, birth"), Ancient Greek γένος (genos, "kind, race"), Albanian dhen ("(herd of) small cattle").
See also:
kín
-mab is the base suffix common to all monoclonal antibodies. (See that entry for full paradigm.)
---
kin - Computer Definition
Smartphones from Microsoft that were designed to integrate social media. Made by Sharp and introduced by Verizon in May 2010 in the U.S., the KIN featured a slide-out keyboard and online storage for the phone's photos and videos. Six weeks after its debut, the KIN ONE and KIN TWO were discontinued due to poor sales. The phone came from Microsoft's 2008 acquisition of smartphone creator Danger, Inc. (see SideKick) and was a departure from previous Windows Mobile phones. Although elements may have been under the covers, KIN did not use the subsequent Windows Phone interface (see Windows Phone).
---
kin - Legal Definition
n
A relation, typically by blood; sometimes used to refer to relations by marriage or adoption.
---