race

race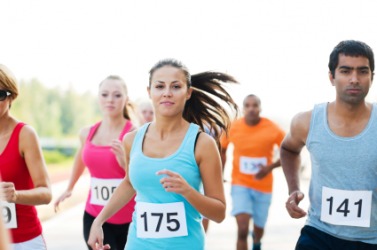 A group of runners in a race.
noun
The definition of a race is a contest to see who moves the quickest or a group of people related by common ancestors.

An example of race is a triathlon.
An example of race is Caucasian.
verb
Race is defined as to compete in a contest of speed.

An example of race is to participate in a marathon.
---
race
a competition of speed in running, skating, riding, etc.
[pl.] a series of such competitions for horses, cars, etc. on a regular course
any contest or competition likened to a race: the race for mayor, a race for power
a steady onward movement or course
the span of life

a swift current of water
the channel for a current of water, esp. one built to use the water industrially: a millrace

a channel or groove for the moving parts of a machine, as the groove for the balls in a ball bearing

Aeron.

slipstream
Origin of race
Middle English (North)
ras(e)
from Old Norse
r?s,
a running, rush, akin to Old English
ræs,
swift movement, attack from Indo-European an unverified form
eras-,
to flow, move rapidly from base an unverified form
er-, an unverified form or-,
to set in motion from source run, orient
intransitive verb
raced

,

rac′ing
to take part in a competition of speed; run a race
to go or move swiftly
to move or revolve so swiftly as to be out of control, because of less resistance or a lighter load: said of machinery
to compete with in a competition of speed
to enter or run (a horse, etc.) in a race

to cause to go swiftly
to cause (an engine) to run at high speed with the drive gears disengaged
any of the different varieties or populations of human beings distinguished by a) physical traits such as hair color and texture, eye color, skin color, or body shape: traditionally, the three primary divisions are Caucasoid, Negroid, and Mongoloid, although many subdivisions of these are also called racesb) blood types c) genetic code patterns d) all their inherited characteristics which are unique to their isolated breeding population

the state of belonging to such a population
the qualities, traits, etc. belonging, or supposedly belonging, to such a population

loosely

any geographical population
any population sharing the same activities, habits, ideas, etc.

any group of people having the same ancestry; family; clan; lineage

Biol.

a subspecies, or variety
breed (noun)

Rare

distinctive flavor, taste, etc., as of wine
Origin of race
French from Italian
razza
from uncertain or unknown; perhaps
Historical
designating or of music, films, etc. featuring black performers and intended mainly for a black audience:
an early record company specializing in race music
---
race
noun
A group of people identified as distinct from other groups because of supposed physical or genetic traits shared by the group. Most biologists and anthropologists do not recognize race as a biologically valid classification, in part because there is more genetic variation within groups than between them.
A group of people united or classified together on the basis of common history, nationality, or geographic distribution: the Celtic race.
A genealogical line; a lineage.
Humans considered as a group.
Biology

a. A usually geographically isolated population of organisms that differs from other populations of the same species in certain heritable traits: an island race of birds.

b. A breed or strain, as of domestic animals.

A distinguishing or characteristic quality, such as the flavor of a wine.
adjective
Of or relating to race; racial: race relations; race quotas.
Of or relating to forms of popular entertainment made by and largely marketed to African Americans in the early 1900s: race literature; race records.
Origin of race
Middle French
rasse, race
lineage, race
from
Old Italian
razza
probably from
Old French
haraz
stud farm for horses
Old French
har-
gray, gray-haired
(
as in
French dialectal (Normandy)
harousse
nag, old mare
) (
perhaps in reference to the graying of stud horses with age and from
Old Norse
hārr
gray-haired, hoary
) (akin to English
hoar
)
or
Old French
har-
hair
(
perhaps in reference to the fact that stud horses are no longer regularly saddled; akin to
French dialectal (Norman)
har
hair
) (
in
monter á har
to ride on hair, ride bareback
) (
from
Old Norse
hār
hair
) (akin to English
hair
)Old French
-az, -as
n. suff.
(
from
Latin
-āceus
-aceous
)
noun
Sports

a. A competition of speed, as in running or riding.

b. races A series of such competitions held at a specified time on a regular course: a fan of the dog races.

An extended competition in which participants struggle like runners to be the winner: the presidential race.
Steady or rapid onward movement: the race of time.

a. A strong or swift current of water.

b. The channel of such a current.

c. An artificial channel built to transport water and use its energy. Also called raceway .

A groovelike part of a machine in which a moving part slides or rolls.
See slipstream.
verb
raced, rac·ing, rac·es
verb
intransitive
Sports To compete in a contest of speed.
To move rapidly or at top speed: We raced home. My heart was racing with fear.
To run too rapidly due to decreased resistance or unnecessary provision of fuel: adjusted the idle to keep the engine from racing.
verb
transitive
Sports

a. To compete against in a race.

b. To cause to compete in a race: She races horses for a living.

To transport rapidly or at top speed; rush: raced the injured motorist to the hospital.
To cause (an engine with the gears disengaged, for example) to run swiftly or too swiftly.
Origin of race
Middle English
ras
from
Old Norse
rās
rush, running
; see
ers-
in Indo-European roots.
---
race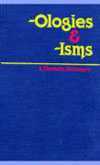 See also anthropology; discrimination; heredity.
albocracy
rule by Caucasians, especially Europeans.
anthroposociology
the sociological study of race using anthropological methods. —
anthroposociological,

adj.
apartheid
the policy of strict racial segregation and political and economic discrimination against non-whites practiced in the Republic of South Africa.
Aryanism
1.
a doctrine propagandized by Nazism asserting that the so-called Aryan peoples were superior to all others in the practice of government and the development of civilization.
2.
a belief in this doctrine and acceptance of its social and ethical implications, especially with regard to the treatment of so-called inferior races. —
Aryanist,

n.
bigotry
obtuse or narrow-minded intolerance, especially of other races or religions. —
bigot,

n.
, —
bigoted,

adj.
biracialism
the principle or practice of combining or representing two separate races, as white and Negro, on governing boards, committees, etc. —
biracialist, biracial,

adj.
cacogenics
Biology.
the study of the operation of factors that cause degeneration in offspring, especially as applied to factors unique to separate races. Also called
dysgenics. —cacogenic,

adj.
creolism
the state of being a creole.
endemism
the quality of belonging to a particular race, region, or country. —
endemicity,

n.
ethnocracy
a government controlled by a particular race or national group. —
ethnocratic,

adj.
ethnogeography
the study of the geographical distribution of racial groups and the relationship between them and their environments. —
ethnogeographer,

n.
—
ethnogeographic,

adj.
ethnopsychology
the psychology of races and peoples. —
ethnopsychological,

adj.
eugenism
the blend of factors and influences most suitable for the improvement of the inherited characteristics of a breed or race, especially the human race. —
eugenic,

adj.
euthenics
the art or science of improving a race or breed, especially the human race, by control of external influences, as environment. See also
improvement
.
genocide
1.
the deliberate and systematic extermination of a racial or national group.
2.
an actor in this process. —
genocidal,

adj.
gentilism
the state or quality of being non-Jewish, and especially a heathen or pagan.
Gobinism
the theory or doctrine that the white race in general and the Germanic race in particular are superior to all other peoples.
integrationism
the combination of educational and other public facilities, previously segregated by race, into unified systems shared by all races. —
integrationist,

n.

,

adj.
interracialism
the principles, beliefs, and attitudes influencing actions aimed at improving relations among differing races. —
interracial,

adj.
Jensenism
the belief that blacks are mentally inferior to whites, based on results of intelligence tests that failed to account for such differences as test questions slanted in favor of whites, lack of cultural and educational oppor-tunities among blacks, etc. —
Jensenist,

n., adj.
Melanochroism
the condition of belonging to the Caucasian race and having dark hair and a light complexion. —
Melanochroic,

adj.
—
Melanochroid,

adj., n.
miscegenation
1.
the interbreeding of members of different races.
2.
cohabitation or marriage between a man and woman of different races, especially, in the U.S., between a Negro and a white person.
3.
the mixing or mixture of races by interbreeding.
monogenesis
monogenism. See also
organisms
.
monogenism
the belief that all human races descended from a common ancestral type. Also
monogenesis, monogeny
. —
monogenist,

n.
—
monogenistic,

adj.
nigritude
the condition of being black; blackness.
polygenism
the theory that all human races descended from two or more ancestral types. —
polygenist,

n.
—
polygenistic,

adj.
racialism
the belief in or practice of the doctrine of racism. —
racialist,

n.
—
racialistic,

adj.
racism
a belief that human races have distinctive characteristics that determine their respective cultures, usually involving the idea that one's race is superior and has the right to control others. —
racist,

adj.
segregationism
the views and policies of those who would separate or maintain as separate rights, public facilities, etc., on the basis of race. See also
apartheid
.
supremacist
a person who advocates supremacy of a particular group, especially a racial group.
Xanthochroism
the condition of belonging to the Caucasian race and having fair skin and blond hair. —
Xanthochroi, Xanthocroid,

n.
—
Xanthochroic, Xanthocroid,

adj.
---
race

Noun
(countable and uncountable, plural races)
A contest between people, animals, vehicles, etc. where the goal is to be the first to reach some objective. Several horses run in a horse race, and the first one to reach the finishing post wins

The race around the park was won by Johnny, who ran faster than the others.
We had a race to see who could finish the book the quickest.

A progressive movement toward a goal.
A fast-moving current of water, such as that which powers a mill wheel.
Swift progress; rapid course; a running.
Competitive action of any kind, especially when prolonged; hence, career; course of life.
Verb
(third-person singular simple present races, present participle racing, simple past and past participle raced)
(intransitive) To take part in a race (in the sense of a contest).

The drivers were racing around the track.

To compete against in such a race.

I raced him to the car, but he was there first, so he got to ride shotgun.

(intransitive) To move or drive at high speed.

As soon as it was time to go home, he raced for the door.
Her heart was racing as she peered into the dimly lit room.

(intransitive) Of a motor, to run rapidly when not engaged to a transmission.
Origin
From Middle English race, from Old Norse rás ("a running, race"), from Proto-Germanic *rÄ"sō ("a course"), from Proto-Indo-European *res-, *eres- ("to flow"). Akin to Old English rÇ£s ("a race, swift or violent running, rush, onset"), Middle Low German râs ("a strong current"). Compare Danish ræs, Norwegian and Swedish ras.
Noun
(countable and uncountable, plural races)
A group of sentient beings, particularly people, distinguished by common heritage or characteristics:

A large group of people distinguished from others on the basis of a common heritage.
A large group of people distinguished from others on the basis of common physical characteristics, such as skin color or hair type.

Race was a significant issue during apartheid in South Africa.

(controversial usage) One of the categories from the many subcategorizations of the human species. See Wikipedia's article on historical definitions of race.

The Native Americans colonized the New World in several waves from Asia, and thus they are considered part of the same Mongoloid race.

A large group of sentient beings distinguished from others on the basis of a common heritage (compare species, subspecies).

A treaty was concluded between the race of elves and the race of men.

(biology) A population geographically separated from others of its species that develops significantly different characteristics; an informal term for a subspecies.
A breed or strain of domesticated animal.
(figuratively) A category or species of something that has emerged or evolved from an older one (with an implied parallel to animal breeding or evolutionary science).

The advent of the Internet has brought about a new race of entrepreneur.
Recent developments in artificial intelligence has brought about a new race of robots that can perform household chores without supervision.

Peculiar flavour, taste, or strength, as of wine; that quality, or assemblage of qualities, which indicates origin or kind, as in wine; hence, characteristic flavour.
Characteristic quality or disposition.
Origin
From Middle French race, from Italian razza, of uncertain origin.
Some authorities suggest derivation from Old Spanish raza, rasa, from earlier ras, res "head of cattle", from Arabic رأس (ra's, "head"). This, however, is difficult to support, since Italian razza predates the Spanish word.
Another possible source is Lombardic raiza "line", a literal rendering of Latin linea sanguinis "bloodline of descent". Raiza is of Germanic origin, akin to Old High German reiza "line", Old Norse rīta "to score, log, outline".
A third possibility is that the Italian razza derives from Latin ratio through an unattested intermediate form *razzo.
---
race - Computer Definition

A consortium of European carriers, end users, and universities. In 1987, RACE sponsored project 1022 to demonstrate the feasibility of asynchronous transfer mode (ATM).The result of the RACE initiative was the R1022 ATM Technology Testbed (RATT). RACE project 2061, also known as EXPLOIT, is a more recent RACE project intended to prove the viability of integrated broadband communications (IBC) in the European Union (EU). The National Research and Education Network (NREN) was the first (1990) test-bed ATM network in the United States. Advanced Communications Technologies and Services (ACTS) was developed as the successor program to RACE, and continues that work on ATM networking and some 200 other projects. See also ATM.
---
(1) See race condition and RACE encoding.
(2) (Research And Development of Advanced Communications) A European program of telecommunications R&D introduced in 1987. Over the subsequent 10-year period, more than 100 projects were undertaken.
(3) (Random Access Card Equipment) An early magnetic card mass storage device from RCA that was used with its IBM-compatible Spectra 70 mainframes. The units read and wrote data on a deck of 4x18" cards with a magnetic recording surface. The card was released from the cartridge, passed down a raceway, wrapped around a read/write head and returned. Operating in the late 1960s, the machine jammed frequently, and an operator had to remain nearby to extricate and replace the damaged cards. See CRAM, Data Cell and racetrack memory.
---