home

home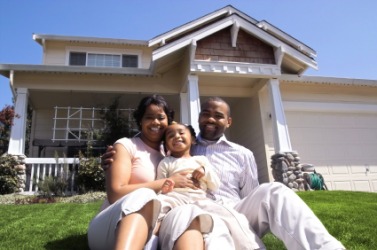 A family sits outside their home.
adjective
The definition of home is something that relates to or happens inside the place where a person or family resides.

An example of home used as an adjective is the phrase home work which is the studying and assignments a student does away from school.
An example of home used as an adjective is the phrase home office which is an office inside your house.
noun
Home is defined as a house or place where a person or family lives or where someone was born.

An example of home is Balmoral Castle where Queen Elizabeth II resides.
An example of home is Hawaii where Barack Obama was born.
---
home
the place where a person (or family) lives; one's dwelling place; specif.,

the house, apartment, etc. where one lives or is living temporarily; living quarters
the region, city, state, etc. where one lives

the place where one was born or reared; one's own city, state, or country
a place thought of as home; specif.,

a place where one likes to be; restful or congenial place
the grave

the members of a family as a unit; a household and its affairs: homes broken up by divorce
an institution for the care of orphans, people who are old and helpless, etc.

the place that is the natural environment of an animal, plant, etc.
the place where something is or has been originated, developed, etc.: Paris is the home of fashion

in many games, the base or goal

Baseball

home plate
Origin of home
Middle English from Old English
h?m
, akin to German
heim
from Germanic an unverified form
haim
from Indo-European base an unverified form
kei-
, to lie, homestead from source hide, Classical Greek
keisthai
, to lie down, rest, Classical Latin
civis
, townsman, Old Norse
heimr
, home, Gothic
haima
, Old High German
heim
: basic sense, "place where one lies, dwelling"
of home or a home; specif.,

of the family, household, etc.; domestic
of one's country, government, etc.; domestic
of or at the center of activity or operations: home office

designating or having to do with games played in the city, at the school, etc. where the team originates: a team's home field
designating or of the team playing in its own city or at its own school or facility: white home uniforms

of or for use in the home

made as by or as for members of the family: home videos
having the qualities of something made in the home: a restaurant serving home cooking
at, to, or in the direction of home or a home
to the place where it must ultimately go; to the point aimed at: to drive a nail home
to the center or heart of a matter; closely; directly; deeply
Origin of home
orig. the n. as acc. of direction
intransitive verb
homed

,

hom′ing
to go or return to one's home
to have a home
to send to, put into, or provide with a home
at home
in one's own house, neighborhood, city, or country
as if in one's own home; comfortable; at ease; familiar
willing to receive visitors

Sports

in the city, on the field, etc. where the team plays its home (adjective) games
bring something home to
to impress something upon or make something clear to
to fasten the blame for something on (someone)
come home
to return, as to one's home
home free
Slang
beyond the point of doubt in approaching success or victory
home in (on)
to guide or be guided as by radar, heat, etc., to (a destination or target)
---
home
noun
A place where one lives; a residence.
The physical structure within which one lives, such as a house or apartment.
A dwelling place together with the family or social unit that occupies it; a household.

a. An environment offering security and happiness.

b. A valued place regarded as a refuge or place of origin.

The place, such as a country or town, where one was born or has lived for a long period.
The native habitat, as of a plant or animal.
The place where something is discovered, founded, developed, or promoted; a source.
A headquarters; a home base.

a. Baseball Home plate.

b. Games Home base.

An institution where people are cared for: a home for the elderly.
Computers

a. The starting position of the cursor on a text-based computer display, usually in the upper left corner of the screen.

b. A starting position within a computer application, such as the beginning of a line, file, or screen or the top of a chart or list.
adjective
a. Of or relating to a home, especially to one's household or house: home cooking; home furnishings.

b. Taking place in the home: home care for the elderly.

Of, relating to, or being a place of origin or headquarters: the home office.
Sports Relating to a team's sponsoring institution or to the place where it is franchised: a home game; the home field advantage.
Of, relating to, or being the keys used as base positions for the fingers in touch-typing: The home row on a standard keyboard consists of the keys for A, S, D, F, J, K, L, ;, and '.
adverb
At, to, or toward the direction of home: going home for lunch.
On or into the point at which something is directed: The arrow struck home.
To the center or heart of something; deeply: Your comments really hit home.
verb
homed, hom·ing, homes
verb
intransitive
To go or return to one's residence or base of operations.
verb
transitive
To guide (a missile or aircraft) to a target.
Chiefly British

a. To arrange to have (an animal) placed in a home.

b. To take (an animal) into one's home.
Phrasal Verbs:
home in
To move or advance toward a target or goal:
The missile homed in on the target.
To focus the attention or make progress achieving an objective:
The investigators were homing in on the truth.
Origin of home
Middle English
from
Old English
hām
; see
tkei-
in Indo-European roots.
---
home

Verb
(third-person singular simple present homes, present participle homing, simple past and past participle homed)
(usually with "in on") To seek or aim for something.

The missile was able to home in on the target.
Adverb
(not comparable)
To one's home or country.

go home, come home, carry home.

To the place where it belongs; to the end of a course; to the full length.

to drive a nail home; to ram a cartridge home

In one's place of residence or one's customary or official location; at home.

Everyone's gone to watch the game; there's nobody home.

(UK, soccer) Into the goal.
(Internet) To the home page.

Click here to go home.
Usage notes
Home is often used in the formation of compound words, many of which need no special definition; as, home-brewed, home-built, home-grown, etc.
home away from home
home and dry
home and hosed
home free
parental home
Origin
From Middle English home, hom, hoom, ham, from Old English hām ("village, hamlet, manor, estate, home, dwelling, house, region, country"), from Proto-Germanic *haimaz ("home, village"), from Proto-Indo-European *ḱóymos ("village, home").
Germanic cognates: see *haimaz. Cognate with Irish caoimh ("dear"), Lithuanian kaimas ("village"), šeima ("family"), Albanian komb ("nation, people"), Old Church Slavonic сѣмь (sěmĭ, "seed"), Ancient Greek κώμη (kṓmē, "village"), from Proto-Indo-European *ḱey- ("to lie") (compare Hittite kittari ("it lies"), Ancient Greek κεῖμαι (keîmai, "to lie down"), Latin civis ("citizen"), Avestan [script?] (saēte, "he lies, rests"), Sanskrit [script?] (śáye, "he lies"). [Cuneiform?]
Proper noun
A habitational surname​.
Prefix
Alternative spelling of homoe-.
---
home - Computer Definition
---