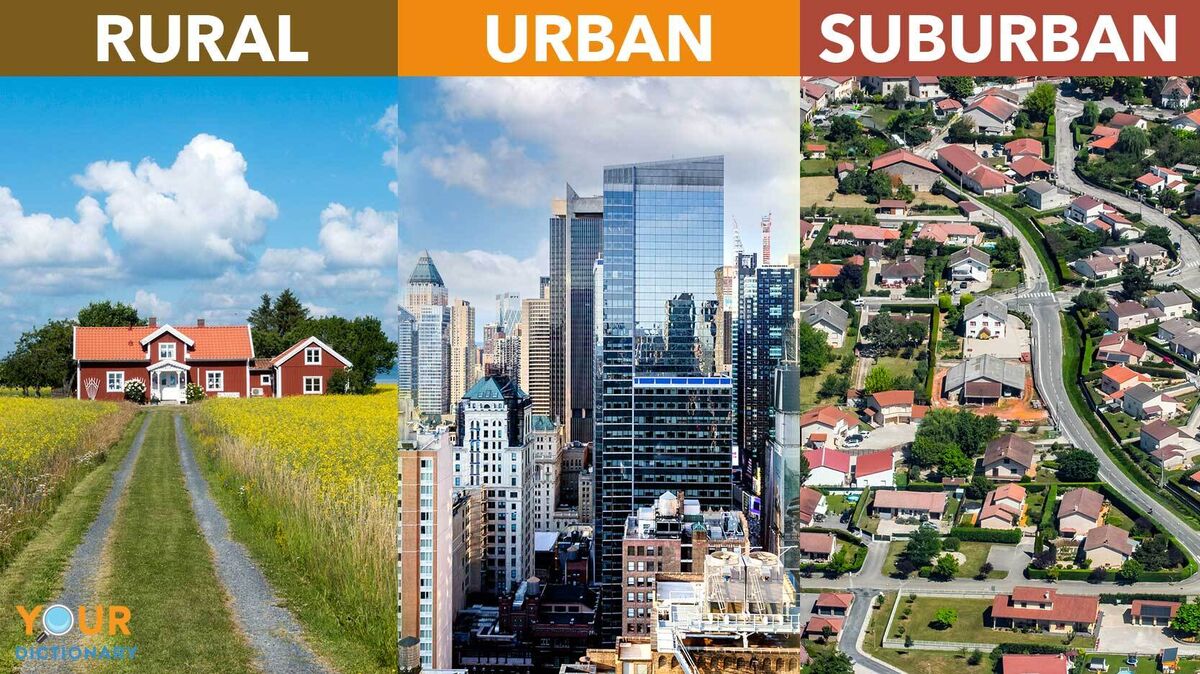 Some people live or work in cities while others live in settings that are more remote. The terms rural, urban and suburban are used to describe the different types of settings in which people spend their lives. Discover the difference between rural and urban, as well as the meaning of suburban.
The term rural is generally used as a synonym indicating that a location is "out in the country." Rural locations are not densely populated. They are outside of cities, further away than suburbs. In rural settings, there are typically large areas of undeveloped land. The town of Mayberry on The Andy Griffith Show is an example of rural America, as are small towns and unincorporated communities from coast to coast.
Rural living tends to be characterized by open spaces and a fairly quiet lifestyle that is free from the hustle, bustle and crowds of city life.
Many people who live in rural areas have multiple acres of land. As a result, homes are usually situated fairly far away from each other.
There are some subdivisions in rural areas. Homes in these developments are typically situated on an acre or more of land.
Apartments and condominiums are not common in rural areas, nor are duplexes or other multi-family dwellings.
In rural areas, you aren't likely to find multistory office buildings or shopping malls. People who live in rural areas expect to have to go to suburban or urban areas for supplies.

People who own large amounts of land often operate farms or other agriculture-related businesses on their rural property.
Large manufacturing enterprises often locate plants in rural areas, due to the availability of affordable land and a local labor pool seeking employment.
Rural locations tend to have some retail stores, including locally-owned stores or restaurants, as well as chains that cater to small markets, such as Dollar General.
Rural areas often have some locally owned and operated service businesses, such as independent banks, hair salons, car repair services, or accounting services.
The word urban is used to refer to cities. A lot of people live and work within cities. Cities are densely populated hubs of commerce where a fast-paced lifestyle tends to be the norm. Atlanta and New York City are examples of urban locations.
In urban areas, land is scarce and expensive so people tend to live close together. Multi-tenant properties are common, though they are not the only option. There are single-family homes in most urban areas.
In urban areas, many people live in large, multi-story apartment buildings. Some are quite luxurious, while others are very basic.
Many single-family urban homes are intermingled in with commercially zoned property, such that a house, or a few houses, may be surrounded by businesses.
There are urban neighborhoods and subdivisions in many cities. Homes in these developments tend to be built very close together and have only very small yards.
Urban areas are home to a lot of businesses, including corporate offices for large organizations with locations throughout the country or world.
Many urban businesses operate in large, multi-story office buildings.
Corporate headquarters may occupy multiple buildings on their own, while other office buildings are home to multiple tenants.
Shopping malls are common in urban areas. It's also common to see stores and restaurants on the first few floors of office buildings.
Suburban areas are locations that build up around the outside of cities. They tend to be less densely populated than the cities they surround, though some grow so much that they become cities in their own right. Gainesville, Georgia is a suburb of Atlanta. In New York, Westchester County is a suburb of New York City.
Suburbs are often referred to as bedroom communities, as many residents of the suburbs commute to the city for work.
Most homes in the suburbs are located in subdivisions zoned exclusively for residential purposes. They typically have more land than homes in urban neighborhoods and less than homes in rural areas.
The most exclusive single-family homes in suburban areas are in gated communities, with secure gates that only residents and their invited guests can pass through.
Apartment complexes are common in the suburbs, but they are different from city apartments. They are usually only a few stories tall and tend to have more spacious floorplans than urban apartments.
Suburban apartment complexes tend to be situated on larger plots of land, which allows for amenities like swimming pools, tennis courts, and dog runs.

People who move to the suburbs to escape from the city don't want to have to go back to the city to shop. As a result, suburban areas typically become booming retail centers.
Large shopping centers anchored by major chain retailers are common in suburban areas.
Freestanding stores, restaurants, and other product and service businesses are common in suburban areas.
Suppliers and distribution centers often set up shop in suburban areas for easy access to customers in nearby cities.
Learn More About Locations