noun
The definition of a manor is a mansion, or a house on an estate.

An example of a manor is Hearst Castle in California.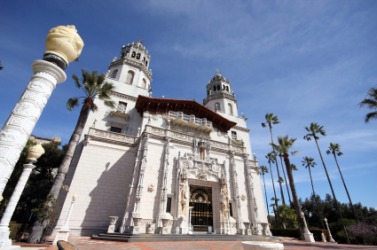 Hearst Castle is an example of a manor.
---
manor definition by Webster's New World
noun
in England

in feudal times, the district over which a lord held authority and which was subject to the jurisdiction of his court
more recently, a landed estate, usually with a main residence, the owner of which still holds some feudal rights over the land

in America during colonial times, a district granted as a manor and leased to tenants at a set rental

a mansion
the main residence on an estate or plantation
a lord's mansion with its land
Origin: Middle English maner ; from Old French manoir ; from manoir, to stay, dwell ; from Classical Latin manere, to remain ; from Indo-European base an unverified form men-, to remain (from source Sanskrit man-, to delay, stand still), probably origin, originally identical with an unverified form men-, to think (from source mind): sense probably from "stand in thought"
Webster's New World College Dictionary Copyright © 2010 by Wiley Publishing, Inc., Cleveland, Ohio. Used by arrangement with John Wiley & Sons, Inc.
---
manor definition by American Heritage Dictionary
noun
a. A landed estate.

b. The main house on an estate; a mansion.

A tract of land in certain North American colonies with hereditary rights granted to the proprietor by royal charter.

a. The district over which a lord had domain and could exercise certain rights and privileges in medieval western Europe.

b. The lord's residence in such a district.
Origin: Middle English, from Old French maneir, manoir, to dwell, manor, from Latin manēre, to remain; see men-3 in Indo-European roots.
Related Forms: