land

land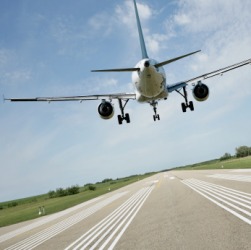 An airplane about to land.
noun
The definition of land is the part of the surface of the Earth that is solid ground and not water.

An example of land is the area where you are standing on the ground right now.
An example of land is the plot that your house is located on.
verb
Land is defined as to bring something back to earth or to shore, or to achieve something or get something.

An example of land is when you dock a boat on the shore.
An example of land is when you bring a plane successfully from the air to the runway.
An example of land is when you get a job you have been trying for.
---
land
the solid part of the earth's surface not covered by water
a specific part of the earth's surface

a country, region, etc.: a distant land, one's native land
the inhabitants of such an area; nation's people

ground or soil in terms of its quality, location, etc.: rich land, high land

ground considered as property; estate: to invest in land
[pl.] specific holdings in land

rural or farming regions as distinguished from urban regions: to return to the land
that part of a grooved surface which is not indented, as any of the ridges between the grooves in the bore of a rifle
the Lord: a euphemism: for land's sake!

Econ.

natural resources
Origin of land
Middle English from OE, akin to Old High German
lant
from Indo-European base an unverified form
lendh-
, unoccupied land, heath, steppe from source Breton
lann
, heath (from source French
lande
, moor), Welsh
llan
, enclosure, yard
to put on shore from a ship or boat
to bring into; cause to enter or end up in a particular place or condition: a fight landed him in jail
to set (an aircraft) down on land or water
to draw successfully onto land or into a boat; catch: to land a fish

Informal

to get, win, or secure: to land a job

Informal

to deliver (a blow)
Origin of land
ME
landen
< the n., replacing OE
lendan
< PGmc *
landjan
to leave a ship or boat and go on shore; disembark
to come to a port or to shore: said of a ship
to arrive at a specified place; end up
to alight or come to rest, as after a flight, jump, or fall
land on
Informal
to scold or criticize severely
Land
1909-91; U.S. physicist, inventor, & industrialist
-land
a kind or quality of land: grassland, highland
a particular place or realm: England, dreamland
---
land
noun
The solid ground of the earth.

a. Ground or soil: tilled the land.

b. A topographically or functionally distinct tract: desert land; prime building land.

a. A nation; a country.

b. The people of a nation, district, or region.

c. lands Territorial possessions or property.

Public or private landed property; real estate.
Law The solid material of the earth as well as the natural and manmade things attached to it and the rights and interests associated with it.

a. An agricultural or farming area: wanted to buy a house on the land.

b. Farming considered as a way of life.

An area or realm: the land of make-believe; the land of television.
The raised portion of a grooved surface, as on a phonograph record.
verb
land·ed, land·ing, lands
verb
transitive
a. To bring to and unload on land: land cargo.

b. To set (a vehicle) down on land or another surface: land an airplane smoothly; land a seaplane on a lake.

Informal To cause to arrive in a place or condition: Civil disobedience will land you in jail.

a. To catch and pull in (a fish): landed a big catfish.

b. Informal To win; secure: land a big contract.

Informal To deliver: landed a blow on his opponent's head.
verb
intransitive
a. To come to shore: landed against the current with great difficulty.

b. To disembark: landed at a crowded dock.

To descend toward and settle onto the ground or another surface: The helicopter has landed.
Informal To arrive in a place or condition: landed at the theater too late for the opening curtain; landed in trouble for being late.
To come to rest in a certain way or place: slipped and landed on his shoulder.
Origin of land
Middle English
from
Old English; see
lendh-
in Indo-European roots.
---
land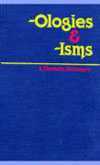 absenteeism
the practice of extensive or permanent absence from their property by owners.
—absentee
,
n
.
alodialism, allodialism
the llth-century Anglo-Saxon estate system in which absolute possession was invested in the holder.
—alodialist, allodialist, alodiary, allodiary
,
n.
burgage
British, Obsolete,
a form of land tenure under which land was held in return for payment of a fixed sum of money in rent or for rendering of service. Also called
socage
.
cadastration
surveying for the purpose of showing boundary and property lines.
chorometry
the science of land surveying.
dummyism
the practice of purchasing land for another person who is not legally entitled to do so.
easement
the right one landowner has been granted over the land of another, as the right of access to water, right of way, etc., at no charge.
embadometry
Obsolete,
the science of surveying.
feudalism
a European system flourishing between 800-1400 based upon fixed relations of lord to vassal and all lands held in fee (as from the king), and requiring of vassal-tenants homage and service. Also
feudality
.
— feudal, feudalistic
,
adj.
fiefdom
Medieval History.
the land over which a person exercises control after vows of vassalage and service to an overlord. See feudalism.
gromatics
the science of surveying.
—gromatic
,
adj.
photogrammetry
the use of photography for surveying or map-making.
phototopography
surveying or map-making by means of photography.
—phototopographic, phototopographical
,
adj.
socage
burgage.
stadia
a system of surveying in which distances are measured by reading intervals on a graduated rod intercepted by two parallel cross hairs in the telescope of a surveying instrument.
—stadia
,
adj.
theodolite
a surveying instrument for measuring vertical and horizontal angles.
—theodolitic
,
adj.
---
land

---
land - Computer Definition
---
land - Legal Definition
n
Real property.
An area of ground with defined boundaries, including minerals or resources below the surface and anything growing on or attached to the surface.
---