ground

ground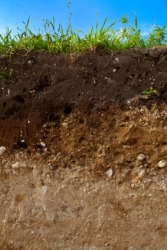 A cross section of ground.
adjective
The definition of ground is base or beginning.

An example of ground is the first class in a set course of several classes.

The definition of ground refers to being cut up into small pieces or into a powder.

An example of ground are the powdery structure of spices after they have been crushed into particles.
noun
Ground is defined as the surface of or soil from the earth.

An example of ground is dirt.
verb
Ground means to cut up into small particles or to prevent an aircraft or pilot from flying.

An example of ground is the action by a grinder to cut up the coffee particles used to brew coffee.
An example of ground is to tell an aircraft pilot that his plane cannot take off until the fog lifts.
YourDictionary definition and usage example. Copyright © 2018 by LoveToKnow Corp
Link to this page
Cite this page
MLA Style
"ground." YourDictionary, n.d. Web. 19 August 2018. <http://www.yourdictionary.com/Ground>.
APA Style
ground. (n.d.). Retrieved August 19th, 2018, from http://www.yourdictionary.com/Ground
---
ground
Obs.

the lowest part, base, or bottom of anything
the bottom of a body of water

the surface of the earth, specif. the solid surface
the soil of the earth; earth; land

any particular piece of land; esp., one set aside for a specified purpose: a hunting ground
[pl.] land surrounding or attached to a house or other building; esp., the lawns, garden, etc. of an estate

any particular area of reference, discussion, work, etc.; topic; subject: arguments covering the same ground
[often pl.] basis; foundation
the logical basis of a conclusion, action, etc.; valid reason, motive, or cause: often used in pl.
the background or surface over which other parts are spread or laid, as the main surface of a painting
[pl.] the particles that settle to the bottom of a liquid; dregs; sediment: coffee grounds

Elec.

a conducting body (as the earth, or an object connected with the earth) whose potential is taken as zero and to which an electric circuit can be connected
the connection of an electrical conductor with a ground
a device, as a stake, iron pipe, etc., that makes such a connection
Origin of ground
Middle English
grund
from OE, ground, bottom, akin to German
grund
, Old Norse
grunnr
: for Indo-European base see grind
of, on, or near the ground
growing or living in or on the ground

Football

designating the part of the offensive game plan using running plays
to set on, or cause to touch, the ground
to cause (a ship, etc.) to run aground
to found on a firm basis; establish
to base (a claim, argument, etc.) on something specified
to instruct (a person) in the elements or first principles of
to provide with a background

to keep (an aircraft or pilot) from flying

Informal

to punish (a young person, esp. a teenager) by not permitting him or her to leave home to engage in social activity

Elec.

to connect (an electrical conductor) to a ground

Football

to throw or knock (an opposing player) to the ground
to strike the bottom or run ashore: said of a ship

Baseball

to hit a grounder
to be put out on a grounder: usually with out

Football

to throw an incomplete pass intentionally, to avoid being sacked
break ground
to dig; excavate
to plow
to start building
to start any undertaking
cover ground
to move or traverse a certain distance
to make a certain amount of progress
cut the ground from under someone
to deprive someone of effective defense or argument
from the ground up
from the first or elementary principles, methods, etc. to the last or most advanced; completely; thoroughly
gain ground
to move forward
to make progress
to gain in strength, extent, popularity, etc.
get off the ground
to get (something) started; begin or cause to begin to make progress
give ground
to withdraw under attack; retreat; yield
go to ground
Chiefly Brit.
to go into hiding or seclusion
Origin of ground
orig. of a fox or other animal entering its burrow
hold one's ground
to keep one's position against attack or opposition; not withdraw or retreat
lose ground
to drop back; fall behind
to lose in strength, extent, popularity, etc.
make up ground
to reduce the distance by which one has fallen behind
on delicate ground
in a situation requiring tact
on firm ground
in a safe situation
firmly supported by facts or evidence
on one's own ground
dealing with a situation or subject that one knows well
at home
on the ground
at the site of the action: wartime journalists on the ground
under practical conditions; in actual practice
run into the ground
to do too long or too often; overdo
to mismanage to the point of ruin or near-ruin; destroy
shift one's ground
to change one's argument or defense
suit (right) down to the ground
Informal
to suit completely
Link to this page
Cite this page
MLA Style
"ground." YourDictionary, n.d. Web. 19 August 2018. <http://www.yourdictionary.com/Ground>.
APA Style
ground. (n.d.). Retrieved August 19th, 2018, from http://www.yourdictionary.com/Ground
---
ground
noun
a. The solid surface of the earth.

b. The floor of a body of water, especially the sea.

Soil; earth: level the ground for a lawn.
often grounds An area of land designated for a particular purpose: a burial ground; parade grounds.
often grounds The land surrounding or forming part of a house or another building: a guesthouse on the grounds of the mansion.
An area or a position that is contested in or as if in battle: The soldiers held their ground against the enemy. Character witnesses helped the defendant stand her ground in the trial.
Something that serves as a foundation or means of attachment for something else: a ground of white paint under the mural.
A surrounding area; a background.
often grounds The foundation for an argument, belief, or action; a basis.
often grounds The underlying condition prompting an action; a cause: grounds for suspicion; a ground for divorce. See Synonyms at base1.
An area of reference or discussion; a subject: The professor covered new ground in every lecture.
grounds

a. The sediment at or from the bottom of a liquid: coffee grounds.

b. Particles of ground coffee beans for use in making coffee for drinking.

Electricity

a. A large conducting body, such as the earth or an electric circuit connected to the earth, used as an arbitrary zero of potential.

b. A conducting object, such as a wire, that is connected to such a position of zero potential.

A mesh background upon which patterns are worked in lace-making.
verb
ground·ed, ground·ing, grounds
verb
transitive
To place on or cause to touch the ground.
To provide a basis for (a theory, for example); justify.
To supply with basic information; instruct in fundamentals.

a. To prevent (an aircraft or a pilot) from flying.

b. Informal To restrict (someone) especially to a certain place as a punishment.

Electricity To connect (an electric circuit) to a ground.
Nautical To run (a vessel) aground.

a. Baseball To hit (a ball) onto the ground.

b. Football To throw (a ball) to the ground in order to stop play and avoid being tackled behind the line of scrimmage.
verb
intransitive
To touch or reach the ground.
Baseball To hit a ground ball: grounded to the second baseman.
Nautical To run aground.
Phrasal Verbs:
ground out
Baseball
To be put out by hitting a ground ball that is fielded and thrown to first base.
Origin of ground
Middle English
from
Old English
grund
verb
Past tense and past participle of
grind
Link to this page
Cite this page
MLA Style
"ground." YourDictionary, n.d. Web. 19 August 2018. <http://www.yourdictionary.com/Ground>.
APA Style
ground. (n.d.). Retrieved August 19th, 2018, from http://www.yourdictionary.com/Ground
Noun
(countable and uncountable, plural grounds)
​(uncountable) The surface of the Earth, as opposed to the sky or water or underground.

1918, W. B. Maxwell, chapter 23, The Mirror and the Lamp:

If the afternoon was fine they strolled together in the park, very slowly, and with pauses to draw breath wherever the ground sloped upward. The slightest effort made the patient cough.

2013 June 8, "The new masters and commanders", The Economist, volume 407, number 8839, page 52: 

From the ground, Colombo's port does not look like much. Those entering it are greeted by wire fences, walls dating back to colonial times and security posts.

(uncountable) Terrain.
The plain surface upon which the figures of an artistic composition are set.

crimson flowers on a white ground

In sculpture, a flat surface upon which figures are raised in relief.
In point lace, the net of small meshes upon which the embroidered pattern is applied.

Brussels ground

In etching, a gummy substance spread over the surface of a metal to be etched, to prevent the acid from eating except where an opening is made by the needle.
(architecture, chiefly in the plural) One of the pieces of wood, flush with the plastering, to which mouldings etc. are attached.

Grounds are usually put up first and the plastering floated flush with them.

(electricity, Canada and US) An electrical conductor connected to the ground.
(countable, cricket) The area of grass on which a match is played (a cricket field); the entire arena in which it is played; the part of the field behind a batsman's popping crease where he can not be run out (hence to make one's ground).
(music) A composition in which the bass, consisting of a few bars of independent notes, is continually repeated to a varying melody.
(music) The tune on which descants are raised; the plain song.
Verb
(third-person singular simple present grounds, present participle grounding, simple past and past participle grounded)
To connect (an electrical conductor or device) to a ground.
To punish, especially a child or teenager, by forcing him/her to stay at home and/or give up certain privileges.

If you don't clean your room, I'll be forced to ground you.
Carla, you are grounded until further notice for lying to us about where you were yesterday.
My kids are currently grounded from television.

To give a basic education in a particular subject; to instruct in elements or first principles.

Jim was grounded in maths.

(baseball) to hit a ground ball; to hit a ground ball which results in an out. Compare fly (verb(regular)) and line (verb).

Jones grounded to second in his last at-bat.

(cricket) (of a batsman) to place his bat, or part of his body, on the ground behind the popping crease so as not to be run out
(intransitive) To run aground; to strike the bottom and remain fixed.

The ship grounded on the bar.

To found; to fix or set, as on a foundation, reason, or principle; to furnish a ground for; to fix firmly.
(fine arts) To cover with a ground, as a copper plate for etching, or as paper or other materials with a uniform tint as a preparation for ornament.
Origin
From Old English grund, from Proto-Germanic *grunduz, from Proto-Indo-European *gʰr̥mtu-. Cognate with West Frisian grûn, Dutch grond and German Grund. Non-Germanic cognates include Albanian grundë ("brittle earth") and gryej ("to erode, crumble").
Verb
simple past tense and past participle of grind

I ground the coffee up nicely.
Adjective
(not comparable)
Crushed, or reduced to small particles.

ground mustard seed

Processed by grinding.

lenses of ground glass
English Wiktionary. Available under
CC-BY-SA
license.
Link to this page
Cite this page
MLA Style
"ground." YourDictionary, n.d. Web. 19 August 2018. <http://www.yourdictionary.com/Ground>.
APA Style
ground. (n.d.). Retrieved August 19th, 2018, from http://www.yourdictionary.com/Ground
---
ground - Computer Definition

A conducting connection, whether intentional or accidental, by which an electric circuit is connected at some point to the earth, or to some other large conducting body that can serve in place of the earth. The point can be a single point common to a great many circuits, such as an equipment frame, chassis, or cabinet. A ground serves as a reference point, a return path for an electrical signal, and to carry current safely away from a circuit in the event of a fault. In the event that earth is not available as a ground, the conducting frame of an aircraft, spacecraft, or land vehicle not conductively connected to the earth can serve as ground. See also circuit, current, electricity, and signal.
Link to this page
Cite this page
MLA Style
"ground." YourDictionary, n.d. Web. 19 August 2018. <http://www.yourdictionary.com/Ground>.
APA Style
ground. (n.d.). Retrieved August 19th, 2018, from http://www.yourdictionary.com/Ground
---
A reference voltage level of "zero potential" for electric and electronic circuits. For most equipment plugged into an AC outlet, the word ground generally refers to the earth, and the metal parts are grounded ("chassis ground") to the earth for safety. In the case of a short circuit, the current flows through the green wire and third prong in the power cord (U.S. and Canada), which causes the circuit breaker to trip. Signal Ground Power supplies, circuit boards and signal pathways in most electronic equipment are also connected to the same earth ground as the chassis for reference voltage and safety. There are exceptions; for example, medical equipment that is attached to a patient is generally isolated from earth ground even when plugged in, because the time between a short circuit and the breaker tripping could prove fatal. Ethernet adapters and other networking equipment are also isolated from earth ground in order to prevent unbalanced ground loops from causing interference (see ground loop). Portable Devices Every portable, battery-operated device, such as a laptop and iPod, as well as the electrical systems in every vehicle, have their own zero reference voltage. Naturally, these systems are not connected to earth ground, but the reference voltage is still called ground. Building Grounds At the electric panel in U.S. and Canadian buildings, the ground lines are wired to the neutral line of the electric service, to the earth via a ground rod and to the metal plumbing pipes. In large datacenters, a separate ground system may connect every server via heavy-duty cable to the metal structure of the building to ensure that the voltage reference between all equipment is the same. See ground loop.
Computer Desktop Encyclopedia
THIS DEFINITION IS FOR PERSONAL USE ONLY All other reproduction is strictly prohibited without permission from the publisher. © 1981-2017 The Computer Language Company Inc. All rights reserved.
Link to this page
Cite this page
MLA Style
"ground." YourDictionary, n.d. Web. 19 August 2018. <http://www.yourdictionary.com/Ground>.
APA Style
ground. (n.d.). Retrieved August 19th, 2018, from http://www.yourdictionary.com/Ground
---