proof

proof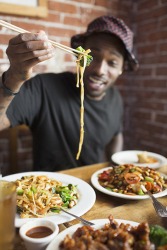 Jesse eats dinner at the noodle café three nights a week, which is proof that it is his favorite restaurant.
noun
Proof is evidence or argument that forces someone to believe something as true.

An example of proof is someone returning to eat at the same restaurant many times showing they enjoy the food.
---
proof
the act or process of proving; a testing or trying of something
anything serving or tending to establish the truth of something, or to convince one of its truth; conclusive evidence
the establishment of the truth of something: to work on the proof of a theory
a test or trial of the truth, worth, quality, etc. of something: the proof of the pudding is in the eating
the quality or condition of having been tested or proved

Obs.

tested or proved strength, as of armor

the relative strength of an alcoholic liquor with reference to the arbitrary standard for proof spirit
this standard, taken as 100 proof

Engraving

a trial impression taken from a plate, block, or stone

Law

all the facts, admissions, and conclusions drawn from evidence which together operate to determine a verdict or judgment

Math.

a process for checking the correctness of a computation, as, in a subtraction problem, by adding the difference to the subtrahend to get the minuend

Numismatics

any of a limited number of coins of a new issue, struck with special care

Photog.

a trial print of a negative

Printing

an impression of composed type taken for checking errors and making changes
Origin of proof
Middle English
profe
from Old French
prueve
from Late Latin
proba
from Classical Latin
probare:
see probe
of tested and proved strength
impervious or invulnerable to; able to resist, withstand, etc.: with against: proof against criticism
used in proving or testing
of standard strength: said of alcoholic liquors
to make a proof of
to make resistant or impervious to something
proofread
-proof
impervious to: waterproof
protected from or against: foolproof, rustproof
resistant to, unaffected by: fireproof
Origin of -proof
from proof
---
proof
noun
The evidence or argument that compels the mind to accept an assertion as true.

a. The validation of a proposition by application of specified rules, as of induction or deduction, to assumptions, axioms, and sequentially derived conclusions.

b. A statement or argument used in such a validation.

a. Convincing or persuasive demonstration: was asked for proof of his identity; an employment history that was proof of her dependability.

b. The state of being convinced or persuaded by consideration of evidence.

Determination of the quality of something by testing; trial: put one's beliefs to the proof.
Law

a. The establishment of the truth or falsity of an allegation by evidence.

b. The evidence offered in support of or in contravention of an allegation.

The alcoholic strength of a liquor, expressed by a number that is twice the percentage by volume of alcohol present.
Printing

a. A trial sheet of printed material that is made to be checked and corrected. Also called proof sheet .

b. A trial impression of a plate, stone, or block taken at any of various stages in engraving.

a. A trial photographic print.

b. Any of a limited number of newly minted coins or medals struck as specimens and for collectors from a new die on a polished planchet.

Archaic Proven impenetrability: "I was clothed in Armor of proof" ( John Bunyan )
adjective
Fully or successfully resistant; impervious. Often used in combination: waterproof watches; a fireproof cellar door.
Of standard alcoholic strength: proof liquor.
Used to proofread or correct typeset copy: a proof copy of the manuscript.
verb
proofed, proof·ing, proofs
verb
transitive
Printing

a. To make a trial impression of (printed or engraved matter).

b. To proofread (copy).

a. To activate (dormant dry yeast) by adding water.

b. To work (dough) into proper lightness.

To treat so as to make resistant: proof a fabric against shrinkage.
verb
intransitive
Printing To proofread.
To become properly light for cooking: The batter proofed overnight.
Origin of proof
Middle English
prove, preve
from
Anglo-Norman
prove
and from
Old French
prueve
both from
Late Latin
proba
from
Latin
probāre
to prove
; see
prove
.
Related Forms:
---
proof

Noun
(countable and uncountable, plural proofs)
(countable) An effort, process, or operation designed to establish or discover a fact or truth; an act of testing; a test; a trial.
(uncountable) The degree of evidence which convinces the mind of any truth or fact, and produces belief; a test by facts or arguments which induce, or tend to induce, certainty of the judgment; conclusive evidence; demonstration.
The quality or state of having been proved or tried; firmness or hardness which resists impression, or doesn't yield to force; impenetrability of physical bodies.
(countable, printing) A proof sheet; a trial impression, as from type, taken for correction or examination.
(countable, logic, mathematics) A sequence of statements consisting of axioms, assumptions, statements already demonstrated in another proof, and statements that logically follow from previous statements in the sequence, and which concludes with a statement that is the object of the proof.
(countable, mathematics) A process for testing the accuracy of an operation performed. Compare prove, transitive verb, 5.
Adjective
(comparative more proof, superlative most proof)
Used in proving or testing.

a proof load; a proof charge

Firm or successful in resisting.

proof against harm
waterproof; bombproof.

(of alcoholic liquors) Being of a certain standard as to alcohol content.
Verb
(third-person singular simple present proofs, present participle proofing, simple past and past participle proofed)
(intransitive, colloquial) To proofread.
To make resistant, especially to water.
To knead, as in bread dough.
Origin
From Middle English proof, from Old French prove, from Late Latin proba ("a proof"), from Latin probare ("to prove"); see prove.
Usage notes
Often used as the second part of a combined form (such as bullet-proof) rather than as a true suffix (as in waterproof)
---
proof - Computer Definition
---
proof - Legal Definition
n
An establishment by evidence of the truth or falseness of an alleged fact; evidence upon which a court's judicial ruling is based.
burden of proof
The responsibility placed on one party to bring forward evidence in support of his cause; as to a plaintiff (in a civil case) or a prosecutor (in a criminal case), the requirement of bringing forth sufficient evidence to support a finding in favor of plaintiff or the state. 
standard of proof
Level of proof required to sustain certain actions; varying levels of proof required include "beyond a reasonable doubt" (criminal cases), "by a preponderance of the evidence" (most civil cases), "clear and convincing evidence" (certain civil and some criminal cases, including fraud). 
---