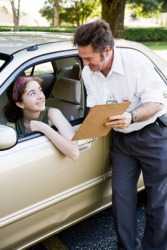 A girl about to take her driving test.
adjective
Test means an exam or evaluation.

An example of test is the term for a group taking part in an exam or experiment.
noun
The definition of a test is an examination or an evaluation.

An example of test is the written and driving exams given before issuing a driver's license.
verb
Test is defined as to participate in or administer an exam or evaluation.

An example of test is to give students 50 multiple choice questions on history and then grade them.
---
test
Archaic

cupel (sense )
an examination, experiment, or trial, as to prove the value or ascertain the nature of something

a method, process, or means used in making such an examination or trial
a standard or criterion by which the qualities of a thing are tried
an oath or declaration required as proof of one's orthodoxy, loyalty, etc.

an event, set of circumstances, etc. that proves or tries a person's qualities: the delay was a test of our patience
a set of questions, problems, or exercises for determining a person's knowledge, abilities, aptitude, or qualifications; examination

Chem.

a trial or reaction for identifying a substance or ingredient
the reagent used in the procedure
a positive indication obtained by it
Origin of test
ME, a cupel from OFr, a pot, cupel from Classical Latin
testum,
earthen vessel from
testa,
piece of burned clay, shell from Indo-European base an unverified form
tekth-,
to weave, join from source Sanskrit
tašta,
cup, Classical Greek
tekt?n,
carpenter: mod. meaning from use of the cupel in examining metals
to refine (metal), as in a cupel
to subject to a test; try

Chem.

to examine by means of a reagent or reagents
to give or undergo a diagnostic test or a test of quality, function, etc.: usually with for[to test for blood sugar]
to be rated as the result of a test: to test high in comprehension
the hard outer covering of certain invertebrate animals, as the shell of clams
Origin of test
Classical Latin
testa:
see test
Test
---
test
noun
A procedure for critical evaluation; a means of determining the presence, quality, or truth of something; a trial: a test of one's eyesight; subjecting a hypothesis to a test; a test of an athlete's endurance.
A series of questions, problems, or physical responses designed to determine knowledge, intelligence, or ability.
A basis for evaluation or judgment: "A test of democratic government is how Congress and the president work together" ( Haynes Johnson )
Chemistry A physical or chemical change by which a substance may be detected or its properties ascertained.
A cupel.
verb
test·ed, test·ing, tests
verb
transitive
To subject to a test; try: tested the pen by scribbling on scrap paper; testing job applicants.
To reveal the degree of (a given quality) in someone or something by or as if by means of a test: The experiment tested the rats' ability to solve spatial problems. The long war tested the country's resolve.

a. To identify the presence or amount of one or more substances in: tested the water for lead.

b. To identify the amount of (a substance) in something: tested the nitrogen and phosphorus in the soil.

c. To ascertain the properties of: tested the steel for hardness and tensile strength.

d. To assay (metal) in a cupel.
verb
intransitive
To undergo a test.
To administer a test: test for acid content; test for the presence of an antibody.
To achieve a score or rating on tests: tested high on the entrance exams.
To exhibit a given characteristic when subjected to a test: test positive for the tubercle bacillus.
Origin of test
Middle English
cupel
from
Old French
pot
from
Latin
testū, testum
Related Forms:
noun
A hard external covering, as that of certain amoebas, dinoflagellates, and sea urchins.
Origin of test
Latin
testa
shell
test2
of a sea urchin
test.
abbreviation
a. testator

b. testatrix

testimony
---
test

Acronym
Treadmill Exercise Stress Test
Noun
(plural Tests)
(cricket) (sometimes test) a Test match
Noun
(obsolete) plural form of testa
See also:
testae
---
test - Computer Definition
---