check

check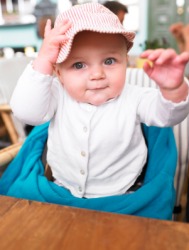 This high chair will hold a baby in check.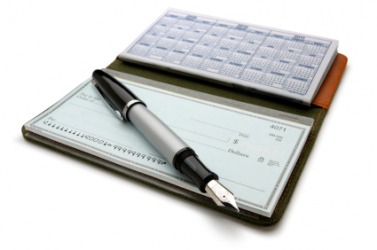 A pad of checks in a checkbook.
noun
The definition of a check is a sudden stop or a person or thing that restrains or controls.

An example of check is a parent strapping a toddler into a high chair.

A check is defined as a mark put next to something written down to show it has been verified or completed.

An example of check is a mark someone would make to show that something on a "to do" list has been completed.

A check is the bill a person receives at a restaurant, or a paper order directing your bank to pay money to a third party from your bank account.

An example of check is what someone writes to pay their monthly car payment.
verb
Check means to test, examine, compare or inspect something to see if it is as it should be.

An example of check is someone making sure their car has enough oil.
---
check
a sudden stop; abrupt halt
any restraint or control put upon action
a person or thing that restrains or controls
a supervision of accuracy, efficiency, etc.

a test, comparison, examination, etc. to determine if something is as it should be
a standard or sample used in making such a determination

a mark (?) to show approval or verification of something, or to call attention to it
an identification ticket or other token enabling one to claim an item left in a checkroom, etc.: a hat check
one's bill at a restaurant or bar

Now Rare

a gambling chip

a written order to a bank to pay a named payee a stated amount of money, typically from funds deposited in the payer's checking account
a form, typically preprinted with the payer's name, account number, etc., used for such orders

a pattern of small squares like that of a chessboard
one of these squares

a fabric with such a pattern
a small split, crack, or chink

Obs.

a rebuke; reprimand

Chess

the condition of a king that is in danger of capture on the opponent's next move: when in such a condition, one's king must, if possible, be protected

Hockey

a blocking or bumping of an opponent
Origin of check
Middle English
chek
from Old French
eschec, eschac
, a check at chess, repulse from Medieval Latin
scaccus, scahus
from Persian
š?h
, king, principal piece in a game of chess (see shah); probably sense development: king in danger ? hostile action ? restraining action ? means of restraint or control
Informal

agreed; I understand; right; OK

Chess

used to signify that one's opponent's king is in check
to cause to stop suddenly; halt abruptly
to hold back; restrain; control
to rebuff, repulse, or rebuke
to test, measure, verify, or control by investigation, comparison, or examination: check the accounts
to mark with a check (?)
to mark with a pattern of squares
to deposit or receive for deposit temporarily, as in a checkroom
to get (esp. luggage) cleared for shipment
to add up the prices of (purchases) and collect the total: said of a cashier, as in a supermarket
to make chinks or cracks in

Agric.

to plant in checkrows

Chess

to place (an opponent's king) in check

Hockey

to block or bump (an opponent)

Naut.

to reduce the strain on (a line) by letting it out gradually
to agree with one another, item for item: the accounts check
to investigate in order to determine the condition, validity, etc. of something: often with on
to draw a check on a bank account
to crack in small checks: cheap paint may check
to stop or halt; specif., to pause, as a hunting dog, to pick up the scent

Falconry

to turn from the pursuit of one prey to follow a lesser one (with at)

Poker

to decline one's chance to open a round of betting
used to check or verify: a check experiment
having a crisscross pattern; checked
check in
to register at a hotel, convention, etc.

Informal

to report, as by presenting oneself: check in at the office
check off
to mark as verified, examined, etc.
check out
to settle one's bill and leave a hotel, hospital, etc.
to add up the prices of purchases and collect the total: said of a cashier, as in a supermarket

to examine and verify or approve
to prove to be accurate, in sound condition, etc. upon examination

to draw (money) from a bank by check
to register items to be loaned out, as books from a library

Slang

to die
check up on
to examine the record, character, actions, etc. of; investigate
in check
in restraint; under control
---
check
noun
a. The act or an instance of inspecting or testing something, as for accuracy or quality: gave the paper a final check.

b. A standard for inspecting or evaluating; a test: The condition of the wiring can serve as a check for the level of the seller's home maintenance.

c. A check mark.

a. A ticket or slip of identification: a baggage check.

b. A bill at a restaurant or bar.

c. A chip or counter used in gambling.

a. Something that stops or slows down motion, action, or expression; a restraint: Heavy rains were a check on the army's advance.

b. The condition of being stopped or held back; restraint: kept my temper in check; holding agricultural pests in check with sprays.

c. A stopping or slowing down of something: "The medicines … gave a check to the disorder that was destroying him" ( Richard Henry Dana )

d. Sports The act of blocking or impeding an opponent with the puck in ice hockey, either with one's body or one's stick.

A written order to a bank to pay the amount specified from funds on deposit; a draft.

a. A pattern of small squares, as on a chessboard.

b. One of the squares of such a pattern.

c. A fabric patterned with squares: a dress of pale green check.

Games

a. A move in chess that directly attacks an opponent's king but does not constitute a checkmate.

b. The position or condition of a king so attacked.

A small crack; a chink.
interjection
Games Used to declare that a chess opponent's king is in check.
Informal Used to express agreement or understanding.
verb
checked, check·ing, checks
verb
transitive
a. To inspect so as to determine accuracy, quality, or other condition; test: checked the brakes for wear; checked the paper for misspellings.

b. To verify by consulting a source or authority: checked her facts before speaking; check a spelling in the dictionary.

c. To put a check mark on or next to: checked off each item on the list.

a. To arrest or slow the motion or progress of: checked the flow by shutting a valve.

b.

To hold in restraint; curb:

check an impulse to laugh.

See Synonyms at

restrain

.

c. Baseball To stop (the swing of the bat) in an attempt to avoid swinging at a pitch that is out of the strike zone: The batter checked his swing, and the pitch was called a ball.

d. Sports To block or impede (an opposing player with the ball or puck), as in ice hockey, by using one's body or one's stick.

To deposit or consign for safekeeping or shipment: checked his coat at the door; checked my bags and boarded the plane.
Games To move in chess so as to put (an opponent's king) under direct attack.
To make cracks or chinks in: Sunlight dried and checked the paint.
verb
intransitive
a. To make an examination or investigation; inquire: phoned to check on the departure time; checked into the rumor.

b. To be verified or confirmed; pass inspection: The suspect's story checked out.

c. To agree point for point; correspond: The fingerprints checked with the ones on file.

a. Sports To block or impede an opposing player with the ball or puck, as in ice hockey.

b. To come to an abrupt halt; stop: The soldiers rushed into the room but checked when they saw their commander.

To write a check on a bank account.
To undergo cracking in a pattern of checks, as paint does.
Games

a. To place a chess opponent's king in check.

b. In certain card games, to announce that one is declining the option of making a bet.

a. To pause to relocate a scent. Used of hunting dogs.

b. To abandon the proper game and follow baser prey. Used of trained falcons.
Phrasal Verbs:
check in
To register, as at a hotel.
check out
To settle one's bill and leave a hotel or other place of lodging.To withdraw (an item) after recording the withdrawal:
check out books.
To record and total up the prices of and receive payment for (items being purchased) at a retail store:
The cashier checked out and bagged my order.
Slang
To die.
check over
To look over; examine:
The teacher checked the students' papers over.
Origin of check
Middle English
chek
check in chess
from
Old French
eschec
from
Arabic
šāh
from
Persian
king, check
; see
shah
.
Related Forms:
Word History:
The words
check, chess,
and
shah
are all related.
Shah,
as one might think, is a borrowing into English of the Persian title for the monarch of that country. The Persian word
shāh
was also a term used in chess, a game played in Persia long before it was introduced to Europe. One said
shāh
as a warning when the opponent's king was under attack. The Persian word in this sense, after passing through Arabic, probably Old Spanish, and then Old French, came into Middle English as
chek
about seven hundred years ago.
Chess
itself comes from a plural form of the Old French word that gave us the word
check. Checkmate,
the next stage after
check,
goes back to the Arabic phrase
shāh māt,
meaning "the king is dead." Through a complex development having to do with senses that evolved from the notion of checking the king,
check
came to mean something used to ensure accuracy or authenticity. One such means was a counterfoil, a part of a check, for example, retained by the issuer as documentation of a transaction.
Check
first meant "counterfoil" and then came to mean anything, such as a bill or bank draft, with a counterfoil—or eventually even without one.
---
check

---
check - Investment & Finance Definition
A piece of paper that is a negotiable instrument drawn on a bank and payable on demand to the person identified as the payee.
---
check - Legal Definition
n
A draft signed by a person (the drawer or maker) that directs a bank (the drawee) to pay, on demand and without conditions, a specific sum of money to another person (the payee). Usually the funds are withdrawn from an account or a deposit that the drawer or maker has with the bank. Also called cheque.
bad check
A check that is not honored by a drawee bank because it is forged, the account it is drawn on has insufficient funds or does not exist, or the check is in some other way defective. See also
check kiting
.
canceled check
A check with a notation (for example, the word "paid") on it made by the drawee bank that indicates that the check has been paid.
cashiers check
A check drawn by a bank upon its own account rather than that of an individual depositor and made payable to another person, to the same bank, or to a different branch of the same bank.
certified check
A check with a certification or notation written upon it (for example, the word "certified"), indicating that the drawee bank has set aside sufficient funds from the drawer's or maker's deposit to guarantee payment of the check on demand.
NSF check
abbr
abbr. Not sufficient funds check. A check that a drawee bank may not pay because the drawer has insufficient funds on deposit to cover it when it is presented for payment. See also check kiting.
raised check
A check whose face amount has been increased. Unless done with the agreement of the drawer or maker, the charge constitutes a material alteration and discharges the drawer or maker, as well as the drawee bank, from paying any amount on the check.
---