verb
Indulge is defined as to give into a desire.

An example of indulge is to eat a huge sundae with all of the toppings.
YourDictionary definition and usage example. Copyright © 2013 by LoveToKnow Corp.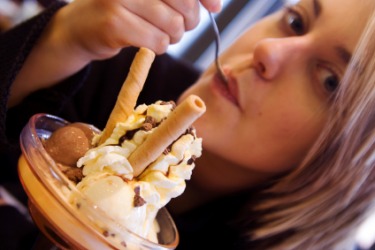 A woman indulges in a spa treatment.
Licensed from iStockPhoto
---
transitive verb
indulged, indulging
to yield to or satisfy (a desire); give oneself up to: to indulge a craving for sweets
to gratify the wishes of; be very lenient with; humor

Archaic

to grant as a kindness, favor, or privilege
Origin: L indulgere, to be kind to, yield to from in- plush base probably akin to Glassical Greek dolichos, long and amp; Gothic tulgus, firm
intransitive verb
to give way to one's own desires; indulge oneself (in something)
Webster's New World College Dictionary
Copyright © 2010 by Wiley Publishing, Inc., Cleveland, Ohio.
Used by arrangement with John Wiley & Sons, Inc.
---
verb
in·dulged
,
in·dulg·ing
,
in·dulg·es
verb
, transitive
To yield to the desires and whims of, especially to an excessive degree; humor.

a. To yield to; gratify: indulge a craving for chocolate.

b. To allow (oneself) unrestrained gratification:

indulged herself with idle daydreams.

See Synonyms at

pamper

.

Roman Catholic Church To grant an ecclesiastical indulgence or dispensation to.
verb
, intransitive
To indulge oneself: eyed the desserts but didn't indulge.
To engage or take part, especially freely or avidly: indulged in outrageous behavior; indulged in all the latest fads.
Origin: Latin indulgēre; see dlegh- in Indo-European roots.
Related Forms:
The American Heritage® Dictionary of the English Language
, 4th edition Copyright © 2010 by Houghton Mifflin Harcourt Publishing Company. Published by Houghton Mifflin Harcourt Publishing Company. All rights reserved.