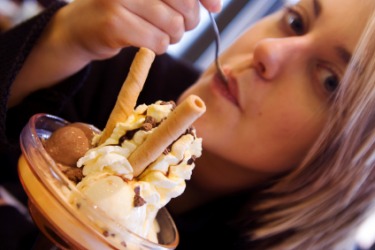 A girl indulges in a large ice cream sundae.
verb
Indulge is defined as to give into a desire.

An example of indulge is to eat a huge sundae with all of the toppings.
---
indulge
transitive verb
-·dulged′

,

-·dulg′ing
to yield to or satisfy (a desire); give oneself up to: to indulge a craving for sweets
to gratify the wishes of; be very lenient with; humor

Archaic

to grant as a kindness, favor, or privilege
Origin of indulge
Classical Latin
indulgere
, to be kind to, yield to from
in-
+ base probably akin to Classical Greek
dolichos
, long and Gothic
tulgus
, firm
to give way to one's own desires; indulge oneself (in something)
---
indulge
verb
in·dulged, in·dulg·ing, in·dulg·es
verb
transitive
a. To yield to (a desire or whim); gratify: indulge a craving for chocolate.

b.

To yield to the desires or whims of (someone), often excessively:

We indulged our daughter on her birthday.

See Synonyms at

pamper

.

Roman Catholic Church To grant an ecclesiastical indulgence or dispensation to.
verb
intransitive
To indulge oneself: eyed the desserts but didn't indulge.
To engage or take part, especially freely or avidly: indulged in outrageous behavior; indulged in all the latest fads.
Origin of indulge
Latin
indulgēre
; see
dlegh-
in Indo-European roots.
Related Forms:
---
indulge

Verb
(third-person singular simple present indulges, present participle indulging, simple past and past participle indulged)
(intransitive, often followed by "in"): To yield to a temptation or desire.

He looked at the chocolate but didn't indulge.
I indulged in drinking on the weekend.

To satisfy the wishes or whims of.

Grandma indulges the kids with sweets.
I love to indulge myself with beautiful clothes.

To give way to (a habit or temptation); not to oppose or restrain.

to indulge sloth, pride, selfishness, or inclinations

To grant as by favour; to bestow in concession, or in compliance with a wish or request.
Origin
From the Latin indulgeō ("I indulge").
---