noun
The definition of a wallow is an act of or spot for rolling about or indulging.

An example of a wallow for a pig is a pit of mud.
verb
To wallow is defined as to roll in or indulge.

An example of to wallow is for a pig to roll about in the mud.
An example of to wallow is to continuously feel bad for one's self and to have self-pity.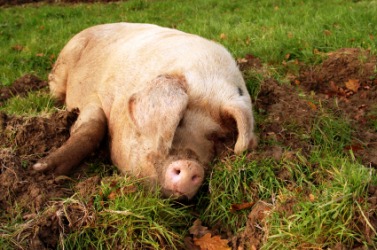 A pig wallows in the mud.
---
wallow definition by Webster's New World
intransitive verb
to roll about or lie relaxed, as in mud, dust or water
to move heavily and clumsily; roll and pitch, as a ship
to live or indulge oneself to an immoderate degree (in a specified thing, condition, etc.): to wallow in self-pity
to surge or billow
Origin: Middle English walwen ; from Old English wealwian, to roll around ; from Proto-Germanic an unverified form walw- ; from Indo-European an unverified form wolw- ; from base an unverified form wel- from source walk
noun
the act or an instance of wallowing
☆ a muddy or dusty place in which animals wallow
☆ a pit or depression produced by animals' wallowing
Webster's New World College Dictionary Copyright © 2010 by Wiley Publishing, Inc., Cleveland, Ohio. Used by arrangement with John Wiley & Sons, Inc.
---
wallow definition by American Heritage Dictionary
intransitive verb
wal·lowed
,
wal·low·ing
,
wal·lows
To roll the body about indolently or clumsily in or as if in water, snow, or mud.
To luxuriate; revel: wallow in self-righteousness.
To be plentifully supplied: wallowing in money.
To move with difficulty in a clumsy or rolling manner; flounder: "The car wallowed back through the slush, with ribbons of bright water trickling down the windshield from the roof" (Anne Tyler).
To swell or surge forth; billow.
noun
The act or an instance of wallowing.

a. A pool of water or mud where animals go to wallow.

b. The depression, pool, or pit produced by wallowing animals.

A condition of degradation or baseness.
Origin: Middle English walowen, from Old English wealwian; see wel-2 in Indo-European roots.
Related Forms: