adjective
The definition of flat is something with a smooth level surface, something touching with as many points as possible, something that doesn't vary, or something that is dull in taste or appearance.

An example of flat is the surface of a table.
An example of flat is someone laying down with their head, back, legs and heals touching the ground.
An example of flat is a flat rate for the pricing of any service performed.
An example of flat is carbonated soda that has lost its fizz.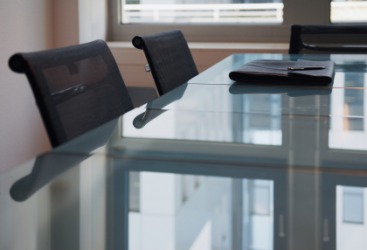 This table is a flat surface.
---
flat
adjective
flatter, flattest
having a smooth, level surface; having little or no depression or elevation

lying extended at full length
spread out smooth and level

touching at as many points as possible: with his back flat against the wall

having little depth or thickness; broad, even, and thin
having a flat heel or no heel: flat shoes

designating or having an almost straight or level trajectory or flight
absolute; positive: a flat denial
not variable; fixed: a flat rate, a flat tax

without much business activity: a flat market
having little or no sparkle or taste; insipid: a flat drink
having little or no interest; monotonous; dull
not clear or full; blurred: a flat sound
☆ emptied of air: a flat tire
☆

Informal

completely without money; penniless
without gloss: flat paint

Art

lacking relief, depth, or perspective
uniform in tint or shade

Gram.

not having the sign to: said of an infinitive: Ex.: go in "make it go"
not having an inflectional ending: said esp. of certain adverbs: Ex.: he drove fast

Music

lower in pitch by a half step: D-flat (D)
out of tune by being below the true or proper pitch

Phonet.

designating the vowel a when it represents the sound (a) as in had or hat, articulated with the tongue in a relatively level position

Photog.

lacking in contrast
Origin of flat
Middle English ; from Old Norse
flatr
, akin to Old High German
flaz
; from Indo-European an unverified form
plāt, plēt-
, wide, flat (from source Classical Greek
platys
, broad, Old English
flet
, floor) ; from base an unverified form
plā-
, broad
adverb
flatter, flattest
in a flat manner; flatly (in various senses)
in a prone or supine position

exactly; precisely: to run a race in ten seconds flat
bluntly; abruptly: she left him flat

☆

Finance

with no interest

Music

below the true or proper pitch
noun
a flat surface or part: the flat of the hand, of a sword, etc.
an expanse of level land
a low-lying marsh
a shallow; shoal
any of various flat things; specif.,

a shallow box or container, as for growing seedlings
☆ flatcar
a piece of theatrical scenery on a flat frame
☆ a deflated tire
women's flat-heeled shoes or slippers

Football

the area flanking either end of the offensive line

Music

a note or tone one half step below another
the sign () indicating such a note
intransitive verb
to sing or play below the true or proper pitch
fall flat
to fail in the desired effect; be completely unsuccessful
flat out
Informal
at full speed, with maximum effort, etc.
clear(ly); definite(ly)
noun
Chiefly Brit.
an apartment or suite of rooms on one floor of a building
Origin of flat
altered ; from Scottish dialect, dialectal
flet
( Middle English and amp; Old English
flet
), a floor (of a dwelling): see flat
---
flat
adjective
flat·ter
,
flat·test
a. Having a smooth, even surface:

a flat field.

See Synonyms at

level

.

b. Having a relatively broad level surface in relation to thickness or depth: a flat box.

a. Being in horizontal position; lying down: flat on his back.

b. Being without slope or curvature: a flat line on a chart.

c. Having a low heel or no heel: flat shoes.

Free of qualification; absolute: a flat refusal.
Fixed; unvarying: a flat rate.
Lacking interest or excitement; dull: a flat scenario.

a. Lacking in flavor: a flat stew that needs salt.

b. Having lost effervescence or sparkle: flat beer.

a. Deflated. Used of a tire.

b. Electrically discharged. Used of a storage battery.

Of or relating to a horizontal line that displays no ups or downs and signifies the absence of physiological activity: A flat electroencephalogram indicates a loss of brain function.
Of or relating to a hierarchy with relatively few tiers or levels: a flat organization chart.
Commercially inactive; sluggish: flat sales for the month.
Unmodulated; monotonous: a flat voice.
Lacking variety in tint or shading; uniform: "The sky was bright but flat, the color of oyster shells" (Anne Tyler).
Not glossy; matte: flat paint.
Music

a. Being below the correct pitch.

b. Being one half step lower than the corresponding natural key: the key of B flat.

Designating the vowel a as pronounced in bad or cat.
Nautical Taut. Used of a sail.
adverb
a. Level with the ground; horizontally.

b. On or up against a flat surface; at full length.

So as to be flat.

a. Directly; completely: went flat against the rules; flat broke.

b. Exactly; precisely: arrived in six minutes flat.

Music Below the intended pitch.
Business Without interest charge.
noun
A flat surface or part.
often flats A stretch of level ground: salt flats.
A shallow frame or box for seeds or seedlings.
A movable section of stage scenery, usually consisting of a wooden frame and a decorated panel of wood or cloth.
A flatcar.
A deflated tire.
A shoe with a flat heel.
A large flat piece of mail.
A horse that competes in a flat race. Also called runner.
Music

a. A sign (♭) used to indicate that a note is to be lowered by a semitone.

b. A note that is lowered a semitone.

Football The area of the field to either side of an offensive formation.
verb
flat·ted
,
flat·ting
,
flats
verb
, transitive
To make flat; flatten.
Music To lower (a note) a semitone.
verb
, intransitive
Music
To sing or play below the proper pitch.
Origin of flat
Middle English, from Old Norse
flatr
; see
plat-
in Indo-European roots.
Related Forms:
noun
An apartment on one floor of a building.
Archaic A story in a house.
Origin of flat
Alteration of Scots
flet
,
inner part of a house
, from Middle English, from Old English,
floor, dwelling
; see
plat-
in Indo-European roots.
---
flat
Adjective
(comparative flatter, superlative flattest)
Having no variations in height.

The land around here is flat.

(of a tire or other inflated object) Deflated, especially because of a puncture.
(music, note) Lowered by one semitone.
(music) Of a note or voice, lower in pitch than it should be.
(music, voice) Without variations in pitch.
Of a carbonated drink, with all or most of its carbon dioxide having come out of solution so that the drink no longer fizzes or contains any bubbles.
Uninteresting.

The party was a bit flat.

Absolute.

His claim was in flat contradiction to experimental results.
I'm not going to the party and that's flat.

(slang) Describing certain features, usually the breasts or buttocks, that are extremely small or not visible at all.

That girl is completely flat on both sides.

(of a battery) Unable to emit power; dead.
(juggling, of a throw) Without spin; spinless.
Lacking liveliness of commercial exchange and dealings; depressed; dull.

The market is flat.

(phonetics, dated, of a consonant) sonant; vocal, as distinguished from a sharp (non-sonant) consonant
Marston

A great tobacco taker too, — that's flat.
Adverb
(comparative more flat, superlative most flat)
So as to be flat.

Spread the tablecloth flat over the table.

Bluntly.

I asked him if he wanted to marry me and he turned me down flat.

(with units of time, distance, etc) Not exceeding.

He can run a mile in four minutes flat.

Completely.

I am flat broke this month.

Directly; flatly.
(finance, slang) Without allowance for accrued interest.
Noun
(plural flats)
An area of level ground.
(music) A note played a semitone lower than a natural, denoted by the symbol ♭ sign placed after the letter representing the note (e.g., B♭) or in front of the note symbol (e.g. ♭♪).
(in the plural) A type of ladies' shoes with very low heels.

She liked to walk in her flats more than in her high heels.

(painting) A thin, broad brush used in oil and watercolor/watercolour painting.
The flat part of something:

(geometry) A subset of n-dimensional space that is congruent to a Euclidean space of lower dimension.
A flat-bottomed boat, without keel, and of small draught.
A straw hat, broad-brimmed and low-crowned.
A railroad car without a roof, and whose body is a platform without sides; a platform car.
A platform on a wheel, upon which emblematic designs etc. are carried in processions.
(mining) A horizontal vein or ore deposit auxiliary to a main vein; also, any horizontal portion of a vein not elsewhere horizontal.

(technical theatre) A rectangular wooden structure covered with masonite, lauan or muslin that can be raised as a platform.
Antonyms
(note): sharp
(shoes): high heels
Verb
(third-person singular simple present flats, present participle flatting, simple past and past participle flatted)
(poker slang) To make a flat call; to call without raising.
(intransitive) To become flat or flattened; to sink or fall to an even surface.

(intransitive, music, colloquial) To fall from the pitch.
(music) To depress in tone, as a musical note; especially, to lower in pitch by half a tone.
(dated) To make flat; to flatten; to level.
(dated) To render dull, insipid, or spiritless; to depress.
Origin
From Middle English flat, from Old Norse flatr (Norwegian and Swedish flat, Danish flad), from Proto-Germanic *flataz, from Proto-Indo-European *plat- ("flat"); akin to German Flöz ("a geological layer"), Ancient Greek πλατύς (platus), Latvian plats, Sanskrit प्रत्हस् ("extension") .
Noun
(plural flats)
(chiefly UK) An apartment.
Origin
From 1795, alteration of Scots flet ("inner part of a house"), from Middle English flet ("dwelling"), from Old English flet, flett ("ground floor, dwelling"), from Proto-Germanic *flatją ("floor"), from Proto-Germanic *flataz ("flat"), from Proto-Indo-European *plat- ("flat"). Akin to Old Frisian flet, flette ("dwelling, house"). More at flet, flat1.
---
flat - Computer Definition
Refers to structures that are not hierarchical such as a single list of items. It also refers to structures that do not contain explicit pointers to other structures. See flat file and flat address space. See also flat screen.
---
flat - Investment & Finance Definition
In trading, a term used to indicate a market or a price that is neither rising or falling. Low trading volumes often produce flat trading conditions.
The trading position of a trader who has sold all of his or her holdings and is neither long or short.
---