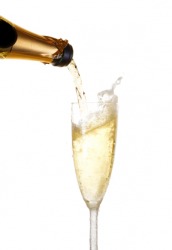 This champagne is very bubbly and is also called bubbly.
adjective
The definition of bubbly is something that has lots of bubbles, looks like bubbles or someone with a light and lively personality.

An example of bubbly is root beer.
An example of bubbly is a cheerful child.
noun
Bubbly is slang for champagne.

An example of bubbly is what people drink to ring in the new year.
---
bubbly
adjective
-·blier

,

-·bli·est
full of, giving off, or like bubbles
lively and high-spirited; vivacious
---
bubbly
adjective
Full of or producing bubbles: a bubbly drink; a bubbly soap.
Resembling bubbles: big, bubbly clouds.
Full of high spirits; effervescent: bright, bubbly children.
noun
pl.
bub·blies
Informal
Champagne.
---
bubbly

Adjective
(comparative bubblier, superlative bubbliest)
Noun
(countable and uncountable, plural bubblies)
(informal) Champagne.

We're getting married - this calls for a bottle of bubbly!
---