frothy
[frôt̸h′ē, frôt̸h′ē]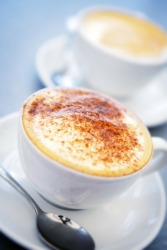 A cup of coffee topped with frothy milk.
adjective
The definition of frothy is someone or something that is light and bubbly.

An example of frothy is a blended coffee drink with lots of whipped cream on the top.
---
frothy
---
frothy
adjective
froth·i·er
,
froth·i·est
Made of, covered with, or resembling froth; foamy.
Playfully frivolous in character or content: a frothy French farce.
Related Forms:
---
frothy
Adjective
(comparative frothier, superlative frothiest)
Foamy or churned to the point of becoming infused with bubbles.

I like my milkshakes frothy, not flat like this!

(figuratively) lightweight; lacking depth or substance

songs with frothy lyrics
---