scintillating
scin·til·lat·ing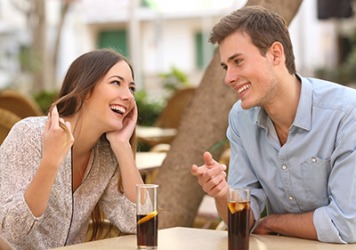 Daphne was attracted to Blake because their scintillating dialogue showed her his true personality.
adjective
The definition of scintillating is something fascinating or brilliantly clever.

Fast-paced, witty and clever dialogue on a favored TV show is an example of something that would be described as scintillating.
---
scintillating
adjective
Animated, brilliant, or highly skilled: a scintillating personality; a scintillating performance.
Related Forms:
scin′til·lat′ing·ly

adverb
---
scintillating

Adjective
(comparative more scintillating, superlative most scintillating)
That scintillates with brief flashes of light; sparkling.
Brilliantly or impressively clever, exciting, amusing or witty.
---