scintillate
scin·til·late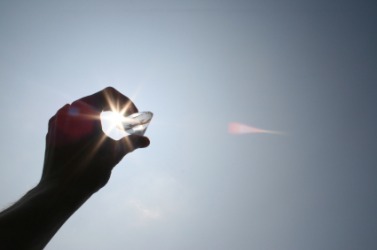 A diamond scintillates in the sun.
verb
To scintillate is to give off or emit flashes of light, or to sparkle.

When a diamond sparkles in the sunshine, this is an example of when it scintillates.
---
scintillate
intransitive verb
-·lat·ed

,

-·lat·ing
to give off sparks; flash; sparkle
to sparkle intellectually; be brilliant and witty
to twinkle, as a star
Origin of scintillate
from Classical Latin
scintillatus
, past participle of
scintillare
, to sparkle from
scintilla
, a spark
to give off (sparks, flashes, etc.)
---
scintillate
intransitive verb
scin·til·lat·ed, scin·til·lat·ing, scin·til·lates
To send forth light in flashes; sparkle. See Synonyms at flash.
To be scintillating: dinner conversation that scintillated.
Origin of scintillate
Latin
scintillāre
scintillāt-
from
scintilla
spark
Related Forms:
---
scintillate

Verb
(third-person singular simple present scintillates, present participle scintillating, simple past and past participle scintillated)
To throw off like sparks.
---