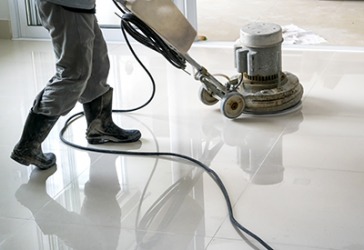 The floor was buffed and polished to a high shine.
noun
Shine is defined as brightness, light or luster.

A gold ring that has just been cleaned and polished is an example of something that has a shine.
verb
Shine is to reflect light, or to polish, or to stand out due to excellence.

When you point a flashlight into a dark room to illuminate what is in the room, this is an example of when you shine your flashlight.
When you polish your shoes, this is an example of when you shine your shoes.
When you are the best singer in the chorus and everyone pays attention to you instead of the rest of the crowd, this is an example of when you shine.
---
shine
intransitive verb
to emit or reflect light; be radiant or bright with light; gleam; glow
to be eminent, conspicuous, or brilliant; stand out; excel
to exhibit itself clearly or conspicuously: love shining from her face
Origin of shine
Middle English
schinen
from Old English
scinan
, akin to German
scheinen
from Indo-European base an unverified form
s??i-
, to glimmer from source Classical Greek
skia
, shadow
to direct the light of: to shine a flashlight
to make shiny or bright by polishing: to shine shoes
brightness; radiance
luster; polish; gloss
shoeshine
splendor; brilliance; show
sunshine; fair weather: the outdoor concert will be held rain or shine

Informal

a trick or prank: usually used in pl.

Slang

black (noun): an offensive term of hostility and contempt
shine up to
Slang
to try to ingratiate oneself with; curry favor with
take a shine to
Slang
to take a liking to (someone)
---
shine
verb
shone,
or
shined
shin·ing, shines
verb
intransitive
To emit light.
To reflect light; glint or glisten.
To distinguish oneself in an activity or a field; excel.
To be immediately apparent: Delight shone in her eyes.
verb
transitive
To aim or cast the beam or glow of (a light).
past tense and past participle shined To make glossy or bright by polishing.
noun
Brightness from a source of light; radiance.
Brightness from reflected light; luster.
A shoeshine.
Excellence in quality or appearance; splendor.
Fair weather: rain or shine.
shines Informal Pranks or tricks.
Slang Whiskey; moonshine.
Offensive Slang Used as a disparaging term for a black person.
Origin of shine
Middle English
shinen
from
Old English
scīnan
Usage Note: The verb shine has two different past tenses, shined and shone, and these forms also function as past participles. By tradition, the past tense and past participle shone is used when the verb is intransitive and means "to emit light, be luminous": The full moon shone over the field. The form shined, on the other hand, is normally used when the verb is transitive and means "to direct (a beam of light)" or "to polish," as in He shined his flashlight down the dark staircase or The butler shined the silver. In our 2008 survey, the Usage Panel found both forms acceptable in transitive literal use ( shone/shined the light ) and in figurative intransitive use ( Carolyn always shined/shone at ribbon-cutting ceremonies ), but a larger majority preferred the traditional usages ( shined the light; shone at ceremonies ) over the nontraditional ones, so maintaining the traditional distinction remains a sensible practice.
---
shine

---