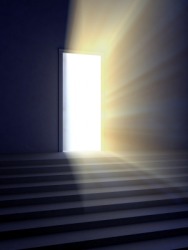 A glowing doorway.
noun
The definition of a glow is a steady light, or a sense of warmth.

An example of a glow is the light of a candle.
verb
Glow is defined as to give off a light or heat, or to show good health or happiness.

An example of glow is for one star to shine in a dark night sky.
---
glow
to give off a bright light as a result of great heat; be incandescent or red-hot
to give out a steady, even light without flame or blaze
to be or feel hot; give out heat
to radiate health or high spirits
to be elated or enlivened by emotion: to glow with pride
to show brilliant, conspicuous colors; be bright; specif.,

to be flushed, as from emotion, enthusiasm, etc.; be rosy or ruddy
to gleam; flash; light up: said of the eyes
to be bright or luminescent: said of colors
Origin of glow
Middle English
glowen
from Old English
glowan
, akin to German
glühen
from Indo-European an unverified form
ghl?-
from base an unverified form
?hel-
, to shine from source gold, gleam, yellow, Classical Greek
chl?ros
, light green
a light given off as the result of great heat; incandescence
a steady, even light without flame or blaze
brilliance, vividness, or luminescence of color
a brightness of skin color, as from good health, emotion, etc.; flush
a sensation of warmth and well-being
warmth of emotion; ardor, eagerness, etc.
---
glow
intransitive verb
glowed, glow·ing, glows
To shine brightly and steadily, especially without a flame: Embers glowed in the furnace.

a. To have a bright, warm, usually reddish color: The children's cheeks glowed from the cold.

b. To flush; blush.

To be exuberant or radiant: parents glowing with pride.
noun
A light produced by a body heated to luminosity; incandescence.
Brilliance or warmth of color, especially redness: "the evening glow of the city streets when the sun has gone behind the tallest houses" ( Seán O'Faoláin )
A sensation of physical warmth.
A warm feeling, as of pleasure or well-being.
Origin of glow
Middle English
glouen
from
Old English
glōwan
; see
ghel-
2
in Indo-European roots.
---
glow

Verb
(third-person singular simple present glows, present participle glowing, simple past and past participle glowed)
To give off light from heat or to emit light as if heated.

The fire was still glowing after ten hours.

To radiate some emotional quality like light.

The zealots glowed with religious fervor.
You are glowing from happiness!

To gaze especially passionately at something.
To radiate thermal heat.

Iron glows red hot when heated to near its melting point.
After their workout, the gymnasts' faces were glowing red.

To shine brightly and steadily.

The new baby's room glows with bright, loving colors.

To make hot; to flush.
(intransitive) To feel hot; to have a burning sensation, as of the skin, from friction, exercise, etc.; to burn.
Noun
(uncountable)
The state of a glowing object.
The condition of being passionate or having warm feelings.
The brilliance or warmth of color in an environment or on a person (especially one's face).

He had a bright red glow on his face.
Origin
From Middle English glowen, probably from the Old English glōwan, though this is disputed because the corresponding words in Old Saxon and Old High German are dissimilar, glōian and gluoen respectively. It may instead be from an Old Norse word, glóa. Its ultimate root is probably Proto-Germanic *glōaną, from Proto-Indo-European. Compare West Frisian gloeie, Dutch gloeien, German glühen, Danish glo. See also glass.
---