phosphorescence

phos·pho·res·cence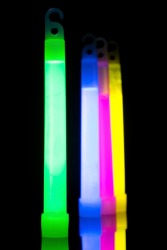 Kids carry light sticks on Halloween because the phosphorescence helps them to be seen at night.
noun
Phosphorescence is light emitted after exposure to radiation, or produced by something that doesn't produce flame or heat.

An example of phosphorescence is the light from a glow stick.
---
phosphorescence
the condition or property of a substance of giving off a lingering emission of light after exposure to radiant energy, as light or X-rays
the light thus given off

a continuing luminescence without noticeable heat, as from phosphorus when it is slowly oxidized
Origin of phosphorescence
Fr: see phosphorus and -escence
---
phosphorescence
noun
Persistent emission of light following exposure to and removal of incident radiation.
Emission of light without appreciable heat, as from chemiluminescence of phosphorus or bioluminescence of living organisms.
Related Forms:
phos′pho·res′cent

adjective
phos′pho·res′cent·ly

adverb
---
phosphorescence

---