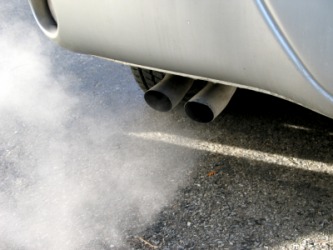 Emissions from a car.
noun
Emission is defined as the discharge of some substance, such as a gas, or the thing that is discharged.

Fumes that come off your car when you drive are an example of an emission.
---
emission
the act of emitting; issuance; specif.,

the transmission of radio waves
the ejection of electrons from a surface by heat, radiation, etc.
a discharge of fluid from the body; esp., an involuntary discharge of semen

something emitted; discharge; often, specif., exhaust from a gasoline or diesel engine
Origin of emission
Classical Latin
emissio
from past participle of
emittere
---
emission
noun
The act or an instance of emitting.
Something emitted.
A substance discharged into the air, as by an internal combustion engine.
Origin of emission
Latin
ēmissiō
ēmissiōn-
a sending out
from
ēmissus
past participle of
ēmittere
to send out
; see
emit
.
---
emission

Noun
(plural emissions)
That which is emitted or sent out.

the emission was mostly blood

The act of sending or throwing out; the act of sending forth or putting into circulation; issue.

the emission of light from the sun
the emission of heat from a fire
Origin
First attested in 1607. From Middle French émission, from Latin ēmissiō ("sending forth"), from ēmittō ("send out"), from ex ("from, out of") + mittō ("send").
---