noun
Emission is defined as the discharge of some substance, such as a gas, or the thing that is discharged.

Fumes that come off your car when you drive are an example of an emission.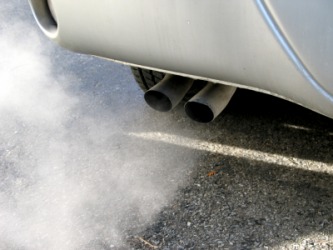 Emissions from a car.
---
emission definition by Webster's New World
noun
the act of emitting; issuance; specif.,

the transmission of radio waves
the ejection of electrons from a surface by heat, radiation, etc.
a discharge of fluid from the body; esp., an involuntary discharge of semen

something emitted; discharge
Origin: Classical Latin emissio ; from past participle of emittere
Webster's New World College Dictionary Copyright © 2010 by Wiley Publishing, Inc., Cleveland, Ohio. Used by arrangement with John Wiley & Sons, Inc.
---
emission definition by American Heritage Dictionary
noun
The act or an instance of emitting.
Something emitted.
A substance discharged into the air, especially by an internal combustion engine.
Origin: Latin ēmissiō, ēmissiōn-, a sending out, from ēmissus, past participle of ēmittere, to send out; see emit.
The American Heritage® Dictionary of the English Language, 4th edition Copyright © 2010 by Houghton Mifflin Harcourt Publishing Company. Published by Houghton Mifflin Harcourt Publishing Company. All rights reserved.
---
emission - Medical Definition
noun
A discharge of fluid from a living body, usually a seminal discharge.