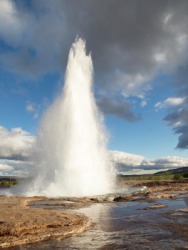 The eruption of a geyser.
noun
The definition of an eruption is a big sudden release, bursting, or outward emotional release.

An example of an eruption is the discharge of water from a geyser.
An example of an eruption is someone having an emotional outburst.
---
eruption
a bursting forth or out, as of lava from a volcano
a throwing forth of lava, water, steam, etc.
a sudden outburst, as of emotion or social discontent

Med.

a breaking out in a rash
a rash
Origin of eruption
Middle English
erupcioun
from Classical Latin
eruptio
: see erupt
---
eruption
noun
a. The act or process of erupting.

b. An instance of erupting.

A sudden, often violent outburst.

a. An appearance of a rash or blemish on the skin.

b. Such a rash or blemish.

The emergence of a tooth through the gums.
eruption
White Dome geyser Lower Geyser Basin Yellowstone National Park, Wyoming
---
eruption

Noun
(plural eruptions)
a sudden release of pressure or tension

there was an eruption of joy at the final whistle
---