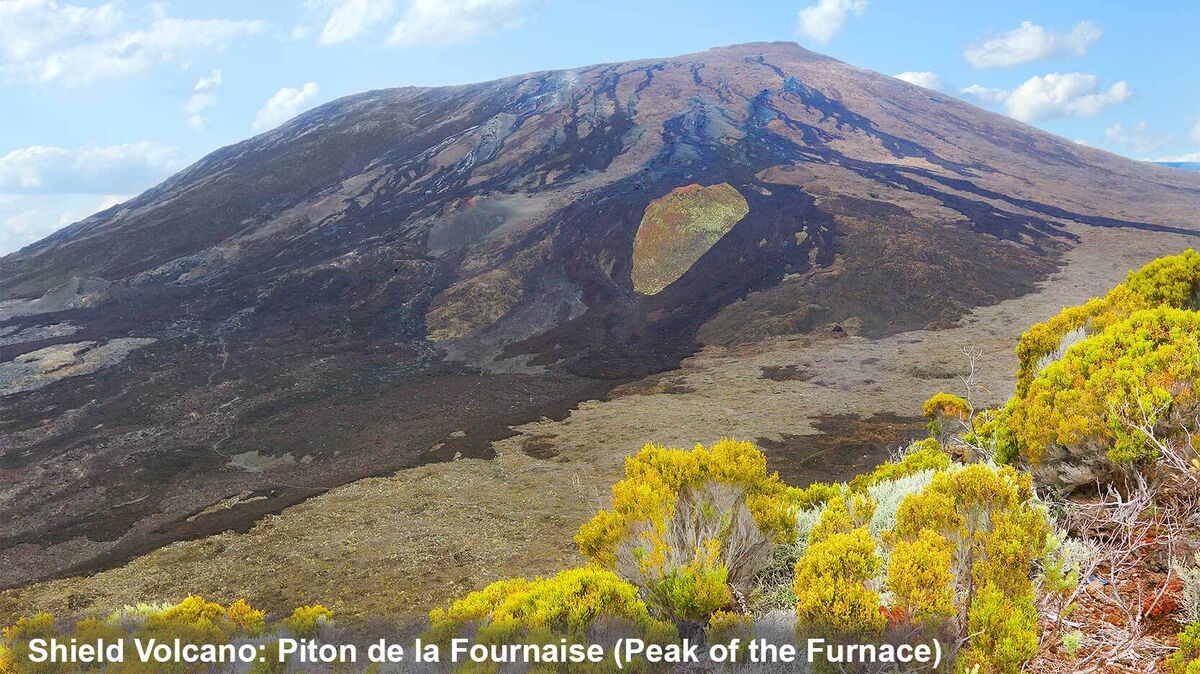 Many of the biggest volcanoes in existence are shield volcanoes. This type of volcano is broad with sloped sides. Discover some shield volcano examples from around the world and their locations.
Shield Volcano Definition
A shield volcano has a broad shape due to having been formed by multiple lava flows. This type of volcano is formed as a result of lava flowing over a period of time. Because there are multiple flow points for the lava, a gently sloping surface is created. This surface resembles a warrior's shield, which is why they are described as shield volcanoes. Large shield volcanoes can be three to four miles in diameter.
While there are many examples of shield volcanoes, a few are particularly notable due to factors like their size or how active they are.
Hawaii's Mauna Loa is the largest shield volcano in the world. It is on the Big Island of Hawaii.
All of the volcanoes in the Hawaiian Islands are shield volcanoes. Kilauea last erupted in 2020.

Reunion Islands' Piton de la Fournaise generally erupts one time per year (on average). It is one of the most active of all the shield volcanoes.
Shield Volcanoes in Africa
There are a number of shield volcanoes in Africa, with the majority located in Ethiopia and Kenya.
Ethiopia's Shield Volcanoes
Shield volcano locations throughout Ethiopia include:
Alayta
Kurub
Manda Hararo
Mat Ala
Asavyo

Dabbayra
Dama Ali
Erta Ale
Hayli Gubbi

Tat Ali
Kenya is home to several examples of this type of volcano.
The Barrier
Emuruangogolak
Korosi
Menengai
Marsabit
Namarunu
Nyambeni Hills
Ol Kokwe
Paka
Silali
Suswa
Shield Volcanoes Elsewhere in Africa
Ethiopia and Kenya are not the only areas in Africa where there are shield volcanoes.
Nyamuragira - Congo
San Carlos - Equatorial Guinea
Sao Tome - Sao Tome and Principe
Piton de la Fournaise - on Reunion Island

Prince Edward Island Volcano - South African island
San Joaquin - Equatorial Guinea

Santa Isabel - Equatorial Guinea
Jebel Umm Arafieb - The Sudan
Shield Volcanoes in Antarctica
There are some shield volcanoes in Antarctica.
Andrus
Berlin
Montagu Island
Siple
Takahe
Toney Mountain
Waesche
Asia's shield volcanoes are located in Japan, Korea, Yemen, and Turkey. The country of Turkey straddles the border of Asia and Europe.
Shield Volcanoes in Japan
Japan's shield volcanoes include:
Abu
Fukue-jima
Kirishima
Nikko-Shirane
Numazawa
Oki-Dogo
Shiga
Washiba-Kumonotaira
Korea has just a few shield volcanoes.
Middle East Shield Volcanoes
Yemen has a few shield volcanoes, while Turkey has two.

Hanish - Yemen
Jebel Zubair - Yemen
Karaca Dag - Turkey
Tendürek Dagi - Turkey
Zukur - Yemen
Shield Volcanoes in Kamchatka (Russia)
Kamchatka is a peninsula located in the far east of Russia, near its boundary with Asia. It is considered to be on Eurasia. There are hundreds of volcanoes on the peninsula, though fewer than 30 are currently active.
Akhtang
Bolshoi Payalpan
Elovsky
Fedotych
Geodesistoy
Iktunup

Kaileney
Kekurny

Kozyrevsky
Kulkev

Leutongey
Maly Payalpan
Nylgimelkin

Ostanets
Ozernoy

Plosky
Pogranychny
Severny

Shishel
Snegovoy
Terpuk

Tolbachik

Uksichan

Voyampolsky

Zaozerny
Shield Volcanoes in Europe
There are shield volcanoes in a few additional European locations.
Madeira - Azores
Theistareykjarbunga - Iceland
Pantelleria - Italy
Santorini - Greece
Shield Volcanoes in North America
There are quite a few shield volcanoes in North America, including some located on islands that are usually considered to be part of the continent.
Shield Volcanoes in the U.S.
There are several shield volcanoes in the northwestern portion of the United States (U.S.) and its Hawaiian Islands.
Belknap - Oregon
Brushy Butte - California
Hell's Half Acre - Idaho

Hualalai - Hawaii
Haleakala - Hawaii
Imuruk Lake - Alaska
Indian Heaven - Washington
Kahoolawe - Hawaii
Kilauea - Hawaii
Kohala - Hawaii
Kookooligit Mountains - Alaska

Mount Washington - Oregon
Newberry - Oregon
Wapi Lava Field - Idaho
Wrangell - Alaska
Mauna Kea - Hawaii
Mauna Loa - Hawaii
Medicine Lake - California
Nunivak Island - Alaska
Shoshone Lava Field - Idaho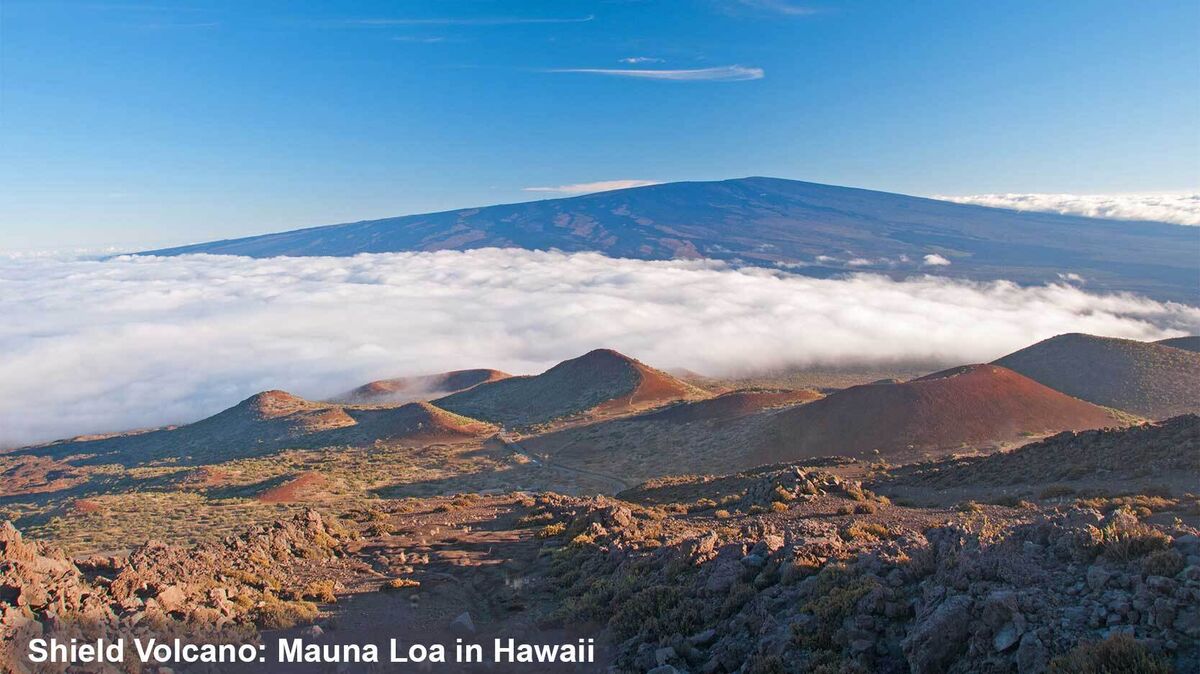 Mexico's Shield Volcanoes
Mexico is home to several shield volcanoes.
Socorro
St. Michael
Cofre de Perote

Guadalupe
Isla Tortuga
Los Atlixcos
Canada's Shield Volcanoes
There are a few shield volcanoes in Canada.

Heart Peaks
Level Mountain
Spectrum Range
The Aleutian Islands Shield Volcanoes
There are also a few of these types of volcanoes in the Aleutian Islands, which are considered to be part of North America.
Shield Volcanoes of the Galápagos Islands
Officially part of Ecuador, the Galápagos Islands are located in the South Pacific. They are home to a number of shield volcanoes.
Alcedo
Cerro Azul
Darwin

Ecuador
Fernandina
Genovesa
Pinta
San Cristóbal
Santa Cruz
Santiago
Sierra Negra
Wolf
Marchena
Central and South American Shield Volcanoes
Central and South America are home to a few shield volcanoes.
Easter Island - Chile
Las Lajas - Nicaragua
Payún Matru - Argentina
Robinson Crusoe - Chile
San Félix - Chile

Santa Isabel - Colombia
San Martín - México
Sanford - Alaska
Zapatera - Nicaragua
Shield Vocanoes in Oceania
Oceania includes the continent of Australia, New Zealand and a number of islands located in the South Pacific Ocean.
Mayor Island - New Zealand
Newer Volcanics Province - Australia
Niuafo'ou - Tonga (South Pacific)
Ofu-Olosega - Samoa
Savai'i - Samoa
Ta'u - Samoa
Taveuni - Fiji
Savai'i - Samoa
Ta'u - Samoa
Taveuni - Fiji
Undara - Australia
Upolu - Samoa
Wallis Islands - South Pacific
Other Shield Volcano Locations
There are a few other examples in remote locations that are either uninhabited or sparsely inhabited.
Bouvet - remote island in the southern Atlantic Ocean
La Grille - on the island of Grande Comore in the Indian Ocean
Hierro - Canary Islands
Karthala - Indian Ocean
Marion Island - Indian Ocean
Tristan da Cunha - Atlantic Ocean
Exploring the Natural World