access

ac·cess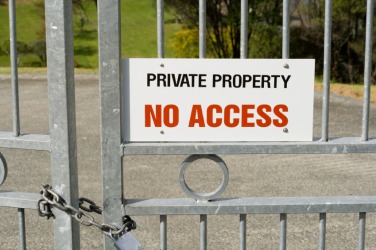 You would need special permission to access this property.
noun
Access is defined as the way to enter or exit a place.

An example of access is a road that connects a house to a highway.

The definition of access is the right to use, communicate, or approach something or someone.

An example of access is permission to enter a secure area.
verb
Access means to approach, use, or enter something.

An example of access would be viewing your bank account from your computer.
---
access
the act of coming toward or near to; approach
a way or means of approaching, getting, using, etc.
the right to enter, approach, or use; admittance
increase or growth
an outburst; paroxysm: an access of anger
Origin of access
Middle English and Old French
acces
from Classical Latin
accessus
, past participle of
accedere
, accede
to gain or have access to; esp., to retrieve data from, or add data to, a database: branch officials can access the central database
---
access
noun
A means of approaching, entering, exiting, communicating with, or making use of: a store with easy access.
The ability or right to approach, enter, exit, communicate with, or make use of: has access to the restricted area; has access to classified material.
Public access.
An increase by addition.
An outburst or onset: an access of rage.
transitive verb
ac·cessed, ac·cess·ing, ac·cess·es
To obtain access to, especially by computer: used a browser to access a website; accessed her bank account online.
Origin of access
Middle English
acces
a coming to
from
Old French
from
Latin
accessus
past participle of
accēdere
to arrive
ad-
ad-
cēdere
to come
; see
ked-
in Indo-European roots.
---
access

Noun
(countable and uncountable, plural accesses)
(uncountable) The act of approaching or entering; an advance.
(uncountable) The right or ability of approaching or entering; admittance; admission; accessibility.
(uncountable) The quality of being easy to approach or enter.
(uncountable) Admission to sexual intercourse.
(uncountable, law) The right of a non-custodial parent to visit their child.
(uncountable, computing) The process of locating data in memory.
(uncountable, Internet) Connection to or communication with a computer program or to the Internet.
Verb
(third-person singular simple present accesses, present participle accessing, simple past and past participle accessed)
To gain or obtain access to.
(computing) To have access to (data).

I can't access most of the data on the computer without a password.
---
access - Computer Definition
---
access - Legal Definition
n
The ability, opportunity, permission, or right to approach, communicate, enter, pass to and from, or view without interference or obstruction. See also
easement
and
visitation rights
.
---