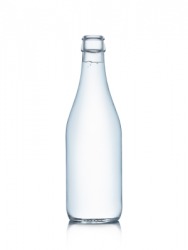 A glass bottle.
adjective
The definition of glass is something made of or like the hard substance made of silicates, soda or potash, lime and sometimes metallic oxides.

An example of glass used as an adjective is in the phrase "glass window," which means a window made from this substance.
noun
Glass is defined as a hard substance made by heating and then quickly cooling sicilates with soda or potash or lime, or something made of this substance.

An example of a glass is a container used for drinking wine.
verb
Glass means to put food into canning jars, to reflect or to replace broken windows.

An example of glass is to put tomatoes in canning jars.
---
glass
a hard, brittle substance made by fusing silicates with soda or potash, lime, and, sometimes, various metallic oxides into a molten mass that is cooled rapidly to prevent crystallization or annealed to eliminate stresses: various types of glass can be transparent, translucent, heat-resistant, flexible, shatterproof, photochromic, etc.
any substance like glass in composition, transparency, brittleness, etc.
glassware

an article made partly or wholly of glass, as a drinking container, mirror, windowpane, telescope, barometer, etc.
[pl.] eyeglasses
[pl.] binoculars

the quantity contained in a drinking glass

Slang, Basketball

a backboard, esp. when made of a transparent substance: with the
Origin of glass
Middle English
glas
from Old English
glæs
, akin to German
glas
from Indo-European base an unverified form
?hel-
, to shine from source gold, glint, glow
to put into glass jars for preserving
to mirror; reflect
to equip with glass panes; glaze
to look at through a telescope, etc.
to make glassy
of, made of or with, or like glass
glass in
to enclose with glass panes
Glass
---
glass
noun
Any of a large class of materials with highly variable mechanical and optical properties that solidify from the molten state without crystallization, are typically made by silicates fusing with boric oxide, aluminum oxide, or phosphorus pentoxide, are generally hard, brittle, and transparent or translucent, and are considered to be supercooled liquids rather than true solids.
Something made of glass or other transparent or translucent material, especially:

a. A drinking vessel.

b. A mirror.

c. A barometer.

d. A window or windowpane.

e. The series of transparent plastic sheets that are secured vertically above the boards in many ice rinks.

a. glasses A pair of lenses mounted in a light frame, used to correct faulty vision or protect the eyes.

b. often glasses A binocular or field glass.

c. A device, such as a monocle or spyglass, containing a lens or lenses and used as an aid to vision.

The quantity contained by a drinking vessel; a glassful.
Objects made of glass; glassware.
adjective
Made or consisting of glass.
Fitted with panes of glass; glazed.
verb
glassed, glass·ing, glass·es
verb
transitive
a. To enclose or encase with glass.

b. To put into a glass container.

c. To provide with glass or glass parts.

To make glassy; glaze.

a. To see reflected, as in a mirror.

b. To reflect.

To scan (a tract of land or forest, for example) with an optical instrument.
verb
intransitive
To become glassy.
To use an optical instrument, as in looking for game.
Origin of glass
Middle English
glas
from
Old English
glæs
; see
ghel-
2
in Indo-European roots.
---
glass

---
glass - Computer Definition
---