noun
The definition of a mirror is a surface that reflects, or anything that gives a true image of a person or thing.

An example of a mirror is what you look at while brushing your hair.
verb
Mirror is defined as to reflect or imitate.

An example of mirror is a dancer doing the same dance steps as another.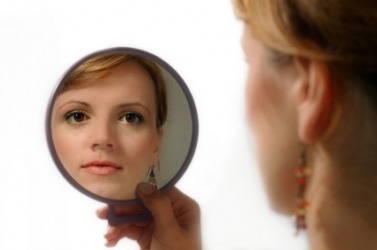 A woman looks at her reflection in a mirror.
---
mirror
noun
a smooth surface that reflects the images of objects; esp., a piece of glass coated on the reverse side as with silver or an amalgam
anything that gives a true representation or description

Rare

something to be imitated or emulated; model

Archaic

a crystal used by fortune-tellers, sorcerers, etc.
Origin of mirror
Middle English
mirour
; from Old French
mireor
; from Vulgar Latin an unverified form
miratorium
; from
mirare:
see mirage
transitive verb
to reflect, as in a mirror; give or show a likeness of
---
mirror
noun
A surface capable of reflecting sufficient undiffused light to form an image of an object placed in front of it. Also called looking glass.
Something that faithfully reflects or gives a true picture of something else.
Something worthy of imitation.
transitive verb
mir·rored
,
mir·ror·ing
,
mir·rors
To reflect in or as if in a mirror: "The city mirrors many of the greatest moments of Western culture" (Olivier Bernier).
Origin of mirror
Middle English
mirour
, from Old French
mireor
, from
mirer
,
to look at
, from Latin
mīrārī
,
to wonder at
, from
mīrus
,
wonderful
; see
smei-
in Indo-European roots.
---
mirror
Noun
(plural mirrors)
A smooth surface, usually made of glass with reflective material painted on the underside, that reflects light so as to give an image of what is in front of it.

I had a look in the mirror to see if the blood had come off my face.
We could see the lorry in the mirror, so decided to change lanes.

(figuratively) an object, person, or event that reflects or gives a picture of another.

His story is a mirror into the life of orphans growing up.

(computing) An exact copy of a data set, especially a website.

Although the content had been deleted from his blog, it was still found on some mirrors.
Verb
(third-person singular simple present mirrors, present participle mirroring, simple past and past participle mirrored)
Of an event, activity, behaviour, etc, to be identical to, to be a copy of.

He tried to mirror Elvis's life. He copied his fashion and his mannerisms, and even went to live in Graceland.

(computing) To create something identical to (a web site, etc.).
To reflect.
---
mirror - Computer Definition
---