reflection

re·flec·tion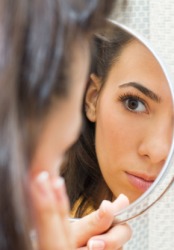 A woman looks at her reflection in a mirror.
noun
The definition of a reflection is a thought or writing about something, particular in the past, or what one sees when looking into a mirror or body of water.

An example of reflection is an article written by an author discussing how he feels he has grown in the past year in his writing style.
An example of reflection is what a girl sees in the mirror when she puts on her makeup.
---
reflection
a reflecting or being reflected
the throwing back by a surface of sound, light, heat, etc.
anything reflected; specif., an image; likeness

the fixing of the mind on some subject; serious thought; contemplation
the result of such thought; idea or conclusion, esp. if expressed in words

blame; discredit
a remark or statement imputing discredit or blame
an action bringing discredit

Anat.

a turning or bending back on itself
Origin of reflection
Middle English
reflexion
from Middle French from Late Latin
reflexio
---
reflection
noun
The act of reflecting or the state of being reflected.
Something, such as light, radiant heat, sound, or an image, that is reflected.

a. Serious thinking or careful consideration: engaged in reflection on the problem.

b. A thought or an opinion resulting from such thinking or consideration: wrote down her reflections.

An indirect expression of censure or discredit: a reflection on his integrity.
A manifestation or result: Her achievements are a reflection of her courage.
Anatomy

a. The folding of a membrane from the wall of a cavity over an organ and back to the wall.

b. The folds so made.
Related Forms:
re·flec′tion·al

adjective
---
reflection

Noun
(plural reflections)
---
reflection - Computer Definition

The act or process of redirecting electromagnetic energy along a new path, using a conductive surface or impedance discontinuity. At a surface, the angle of the reflection equals the angle of incidence, i.e., the angle at which the incident signal strikes the plane surface of the obstacle. At the extreme, the signal reflects back towards its point of origin. See also angle of incidence and refraction. ISDN Central Office Switch NT1 NT2 NT2 NT2 NT2 NT1 NT1 NT1 PBX TA R R R R Q Q S S S S T T T T U U U U R R
---
(1) A characteristic of light (see reflective).
(2) A feature of some programming languages and scripting languages that allows them to change their own structure at runtime. It typically refers to interpreted languages that can, for example, accept source code as input, which modifies the program's original behavior when executed. A compiler may also provide meta-data that can be used for reflection at runtime. See also reflection mapping.
(3) (Reflection) A family of connectivity software from Attachmate Corporation that runs under Windows. Reflection products include terminal emulation for Unix, HP, OpenVMS, IBM and X Window as well as NFS support for clients and NT servers. The Reflection line was originally the flagship product offering of WRQ, Inc., which Attachmate acquired in 2005.
---