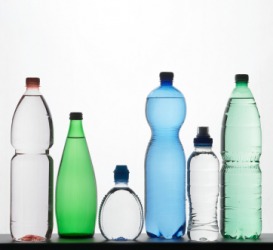 Bottles of different sizes and shapes.
noun
The definition of a bottle is a container with a neck that holds liquids.

An example of a bottle is a container in which wine is sold.
verb
Bottle is defined as to put something into a container.

An example of bottle is to fill glass containers with milk.
---
bottle
a container, esp. for liquids, made of glass, plastic, etc. and having a relatively narrow neck

the amount that a bottle holds
the volume of liquid contained in a standard U.S. wine bottle, 750 ml (25.4 oz)

milk from an infant's nursing bottle
alcoholic liquor
Origin of bottle
Middle English
botel
from Middle French
botele
from Old French from Medieval Latin
butticula
, diminutive of Late Latin
buttis,
a cask
transitive verb
-·tled

,

-·tling
to put into a bottle or bottles
to store (a gas, a liquefied gas, etc.) under pressure in a tank or cylinder
bottle up
to shut in, as enemy troops
to hold in or suppress, as emotions
hit the bottle
Slang
to drink much alcohol
Brit., Dial.
a bundle, as of hay
Origin of bottle
Middle English and Old French
botel
, diminutive of
botte
from Middle Dutch
bote
, bundle of flax
---
bottle
noun
A receptacle having a narrow neck, usually no handles, and a mouth that can be plugged, corked, or capped.
The quantity that a bottle holds.
A receptacle filled with milk or formula that is fed, as to babies, in place of breast milk.
Informal

a. Intoxicating liquor: Don't take to the bottle.

b. The practice of drinking large quantities of intoxicating liquor: Her problem is the bottle.
transitive verb
bot·tled, bot·tling, bot·tles
To place in a bottle.
To hold in; restrain: bottled up my emotions.
Origin of bottle
Middle English
botel
from
Old French
botele
from
Medieval Latin
butticula
diminutive of
Late Latin
buttis
cask
Related Forms:
---
bottle

---