verb
To build is defined as to construct, create, establish or put together.

An example of to build is creating a sand castle at the beach.
An example of to build is making a man out of snow.
An example of to build is constructing a house.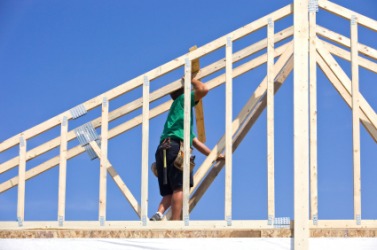 A man working to build a house.
---
build definition by Webster's New World
transitive verb
built or

Archaic

builded, building
to make by putting together materials, parts, etc.; construct; erect
to order, plan, or direct the construction of

to make a basis for; establish: to build a theory on facts
to cause to be or grow; create or develop: often with up: to build good will, to build up a business
Origin: Middle English bilden ; from Old English byldan, to build ; from base of bold, a house, akin to Old Norse bua: see bondage
intransitive verb
to put up a building
to have a house, etc. built

to be in the business of building houses, etc.
to increase in amount, force, etc.; grow or intensify: often with up
to depend or be based (on): this theory builds on others
noun
the way a thing is built or shaped; form or figure: a stocky build
Webster's New World College Dictionary Copyright © 2010 by Wiley Publishing, Inc., Cleveland, Ohio. Used by arrangement with John Wiley & Sons, Inc.
---
build definition by American Heritage Dictionary
verb
built
built
,
build·ing
,
builds
verb
, transitive
To form by combining materials or parts; construct.
To order, finance, or supervise the construction of: The administration built several new housing projects.
To develop or give form to according to a plan or process; create: build a nation; built a successful business out of their corner grocery store.
To increase or strengthen by adding gradually to: money building interest in a savings account; build support for a political candidate.
To establish a basis for; found or ground: build an argument on fact.
verb
, intransitive
To make something by combining materials or parts.
To engage in the construction or design of buildings: "Each of the three architects built in a different style" (Dwight Macdonald).
To develop in magnitude or extent: clouds building on the horizon.
To progress toward a maximum, as of intensity: suspense building from the opening scene to the climax.
noun
The physical makeup of a person or thing; physique: an athletic build.
Computer Science Any of various versions of a software product as it is being developed for release to users.
Phrasal Verbs:
build
in
/into
To construct or include as an integral part of:
a wall with shelving that was built in; build stability into the economy.
build
on
/upon
To use as a basis or foundation:
We must build on our recent success.
build up
To develop or increase in stages or by degrees:
built up the business; building up my endurance for the marathon.
To accumulate or collect:
sediment building up on the ocean floor.
To bolster:
build up the product with a massive ad campaign; built up my hopes after the interview.
To fill up (an area) with buildings.
Origin: Middle English bilden, from Old English byldan; see bheuə- in Indo-European roots.
The American Heritage® Dictionary of the English Language, 4th edition Copyright © 2010 by Houghton Mifflin Harcourt Publishing Company. Published by Houghton Mifflin Harcourt Publishing Company. All rights reserved.
---
build - Computer Definition
(1) (verb) To compile a program. See build tool.
(2) (noun) A version of a program. A build number is assigned to newly compiled instances of a program under development. When published, a version number is typically assigned to the software, and the build number is hidden. Occasionally, software development tools retain their build number rather than replacing it with a version number. See gold code, build tool and canary build.
Computer Desktop EncyclopediaTHIS DEFINITION IS FOR PERSONAL USE ONLYAll other reproduction is strictly prohibited without permission from the publisher.© 1981-2014 The Computer Language Company Inc. All rights reserved.
---
build - Phrases/Idioms
build up
to make more desirable or attractive to build up a product by advertising
to erect many buildings in (an area)
build on sand
To provide with an unstable foundation:
Having bought only high-risk stocks, my portfolio was built on sand.