noun
The definition of a forge is a furnace or workshop where metals are heated.

An example of a forge is the local iron-smith.
verb
To forge is defined as to give form or shape to something.

An example of to forge is to build a settlement.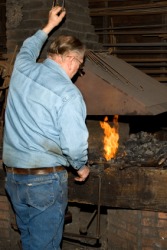 A blacksmith at his forge.
---
forge definition by Webster's New World
noun
a furnace for heating metal to be wrought
a place where metal is heated and hammered or wrought into shape; smithy
a place where wrought iron is made from pig iron or iron ore
Origin: Middle English ; from Old French ; from Classical Latin fabrica, workshop, fabric ; from faber, workman ; from Indo-European base an unverified form dhabh-, to join, fit from source daft
transitive verb
forged, forging
to form or shape (metal) with blows or pressure from a hammer, press, or other machine, usually after heating
to make (something) by or as by this method; form; shape; produce
to make (something false) or imitate (something genuine) for purposes of deception or fraud; esp., to counterfeit (a check, signature, etc.)
Origin: ME forgen < OFr forgier < L fabricare, to make < fabrica
intransitive verb
to work at a forge
to commit forgery
Webster's New World College Dictionary Copyright © 2010 by Wiley Publishing, Inc., Cleveland, Ohio. Used by arrangement with John Wiley & Sons, Inc.
---
forge definition by American Heritage Dictionary
noun
A furnace or hearth where metals are heated or wrought; a smithy.
A workshop where pig iron is transformed into wrought iron.
verb
forged
forged
,
forg·ing
,
forg·es
verb
, transitive
a. To form (metal, for example) by heating in a forge and beating or hammering into shape.

b. To form (metal) by a mechanical or hydraulic press.

To give form or shape to, especially by means of careful effort: forge a treaty; forge a close relationship.
To fashion or reproduce for fraudulent purposes; counterfeit: forge a signature.
verb
, intransitive
To work at a forge or smithy.
To make a forgery or counterfeit.
Origin: Middle English, from Old French, from Vulgar Latin *faurga, from Latin fabrica, from faber, worker.
Related Forms:
intransitive verb
forged
forged
,
forg·ing
,
forg·es
To advance gradually but steadily: forged ahead through throngs of shoppers.
To advance with an abrupt increase of speed: forged into first place with seconds to go.
Origin: Probably from forge1.