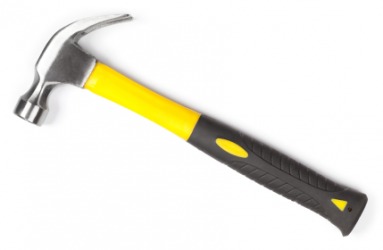 One type of hammer.
noun
The definition of a hammer is a tool usually with a wooden handle and metal head used for pounding.

An example of a hammer is the tool you would use to pound a nail into a wall.
verb
Hammer is defined as to strike or pound something.

An example of hammer is using a mallet to drive a tent stake into the ground.
---
hammer
a tool for pounding, usually consisting of a metal head fastened across one end of a handle: one end of the head may be a pronged claw for pulling nails
a thing like this tool in shape or use; specif.,

the mechanism that strikes the firing pin or percussion cap in a firearm
a device for striking a bell, gong, metal bar, etc. to make a sound
any of the felt-covered mallets that strike against the strings of a piano
a high-speed, hammering power tool fitted with a metal block or chisel, for shaping metal, breaking up paved surfaces, etc.

the malleus, one of the three bones of the middle ear
an auctioneer's gavel
a metal ball weighing usually sixteen pounds, hung from a wire handle and thrown for distance in a track-and-field competition
Origin of hammer
Middle English
hamer
from Old English
hamor
, akin to German
hammer
, Old Norse
hamarr
, crag, cliff from Indo-European an unverified form
?omor-
, stone hammer from base an unverified form
ak-m-
from an unverified form
a?-
, sharp, sharp stone from source Classical Greek
akm?
, point,
akm?n
, anvil
to strike repeatedly with or as with a hammer
to smash, destroy, defeat overwhelmingly, etc.: a tornado hammered the region

to make or fasten with a hammer
to drive, force, or shape with or as with hammer blows: to hammer an idea into someone's head
to strike repeated blows with or as with a hammer
hammer and tongs
Origin of hammer
with reference to the work of a blacksmith
with all one's might; very vigorously
hammer (away) at
to work continuously or energetically at
to keep emphasizing or talking about
hammer out
to shape, construct, or produce by hammering
to make flat by hammering
to take out by or as by hammering
to develop or work out by careful thought or repeated effort
under the hammer
Origin of hammer
cf. hammernoun above
---
hammer
noun
A hand tool consisting of a handle with a head of metal or other heavy rigid material that is attached at a right angle, used for striking or pounding.
A tool or device similar in function or action to this striking tool, as:

a. The part of a gunlock that hits the primer or firing pin or explodes the percussion cap and causes the gun to fire.

b. Music One of the padded wooden pieces of a piano that strikes the strings.

c. A part of an apparatus that strikes a gong or bell, as in a clock.

Anatomy See malleus.
Sports A metal ball weighing 16 pounds (7.2 kilograms) and having a long wire or wooden handle by which it is thrown for distance in track-and-field competition.
A small mallet used by auctioneers.
verb
ham·mered, ham·mer·ing, ham·mers
verb
transitive
a.

To hit, especially repeatedly, with a hammer; pound. See Synonyms at

beat

.

b. To strike forcefully and repeatedly: hooves hammering the ground.

c. To assault with military force: hammered the position with artillery shells.

a. To beat into a shape with a hammer or similar tool: hammered the metal into a goblet.

b. To accomplish or produce with difficulty or effort. Often used with out : hammer out an agreement.

To put together, fasten, or seal, particularly with nails, by hammering.
To force upon (someone) by constant repetition: hammered the information into the students' heads.

a. To cause harm, loss, or difficulty to (someone), especially repeatedly: investors hammered in the bear market.

b. To defeat soundly: got hammered in the playoffs.

c. To attack verbally: a politician hammered in the press
verb
intransitive
To deal repeated blows with or as if with a hammer; pummel: "Wind hammered at us violently in gusts" ( Thor Heyerdahl )
To undergo beating in the manner of a hammer: My pulse hammered.
Informal To keep at something continuously. Often used with away: hammered away at the problem.
Origin of hammer
Middle English
hamer
from
Old English
hamor
; see
ak-
in Indo-European roots.
Related Forms:
---
hammer

---
hammer - Computer Definition
(1) (HAMR) (Heat-Assisted Magnetic Recording) See HAMR.
(2) (Hammer) The code name for AMD's 64-bit CPU chips using 0.13 process technology. The Sledgehammer was introduced as the Opteron in 2003 for servers and workstations, and the Clawhammer began as the AMD Athlon 64. Designed for different markets, the Athlon 64 processor contained one HyperTransport link while the Opteron came with three. Using silicon-on-insulator technology (SOI), the Athlon and Opteron versions of Hammer provide backward compatibility for all 32-bit software that has been running on PCs since the mid-1990s. In 2002, Microsoft announced Windows support for these 64-bit chips. See Opteron, Athlon, SOI and Itanium.
(3) In a printer, the mechanism that pushes the typeface onto the ribbon and paper or pushes the paper into the ribbon and typeface.
---