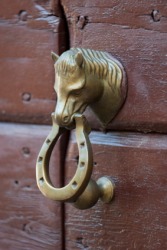 A horse head door knocker.
---
knocker
noun
a person or thing that knocks; specif.,

a small metal ring, hammer, etc. attached by a hinge to a door, for use in knocking for admittance
☆

Informal

a faultfinder

Slang

a breast: usually used in pl.: a somewhat vulgar term
---
knocker
noun
A hinged fixture, such as a metal ring or bar, used for knocking on a door.
knockers Vulgar Slang A woman's breasts.
A goblin or dwarf said to live under the earth and direct miners to ore by knocking.
---
knocker
Noun
(plural knockers)
A person who knocks (denigrates) many things.
(slang) (usually in plural) A woman's breasts.
A dwarf, goblin, or sprite imagined to dwell in mines and to indicate the presence of ore by knocking particularly in Cardigan etc. in South Wales (18th..19th century).
(pinball) A mechanical device in a pinball table that produces a loud percussive noise.
---