bang

bang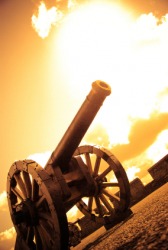 Bang is the sound a cannon makes.
noun
The definition of bang means a loud, sudden noise.

An example of a bang is the loud sound a cannon makes.

Bang means a piece of hair that hangs down across someone's forehead.

An example of a bang is the front of a woman's hairstyle that hangs in front of her eyes.
verb
Bang is defined as to hit or smash.

An example of to bang is to knock hard on a door with a fist to get the attention of people inside a house.
---
bang
to hit with a resounding blow; strike hard and noisily
to shut (a door, window, etc.) noisily
to handle violently

Slang

to engage in sexual intercourse with: somewhat vulgar
Origin of bang
Old Norse
banga,
to pound, hammer; akin to German
bengel
, cudgel, of echoic origin, originally
to make a loud noise, as through concussion or explosion
to move noisily or strike sharply (against something)
a hard, noisy blow or impact
a loud, sudden noise, as of hitting or exploding

Informal

a display of enthusiasm or vigor: to start with a bang

Slang

a thrill; excitement

Informal

sudden force or effectiveness: the idea hit him with a bang

Slang

the act or an instance of sexual intercourse: somewhat vulgar
hard, noisily, and suddenly: to run bang against a wall
suddenly or exactly: be stopped bang in the middle
used to suggest the sound of a shot or explosion
to cut (hair) short and straight across
Origin of bang
from bang: see adverb
[usually pl.] banged hair across the forehead
---
bang
noun
A sudden loud noise, as of an explosion.
A sudden loud blow or bump.
Informal A sudden burst of action: The campaign started off with a bang.
Slang A sense of excitement; a thrill: We got a bang out of watching the old movies.
verb
banged, bang·ing, bangs
verb
transitive
To strike heavily and often repeatedly; bump.
To close suddenly and loudly; slam.
To handle noisily or violently: banged the pots in the kitchen.
Vulgar Slang To have sexual intercourse with.
verb
intransitive
To make a sudden loud, explosive noise.
To crash noisily against or into something: My elbow banged against the door.
adverb
Exactly; precisely: The arrow hit bang on the target.
Suddenly; abruptly: cut the conversation bang off.
interjection
Used to indicate the sound of an explosion or collision.
Phrasal Verbs:
bang away
To speak or ask questions in a rapid, aggressive manner:
reporters banging away at the official during the press conference.
To work diligently and often at length:
banged away at the project until it was finished.
bang up
To damage extensively:
banged up the car.
Origin of bang
Probably from
Old Norse
bang
a hammering
noun
often bangs A fringe of hair that hangs over the forehead, cut in any of various styles.
transitive verb
banged, bang·ing, bangs
To cut (hair) to form bangs.
Origin of bang
From
bang
1
abruptly
as in the phrase
cut bang off
to cut off abruptly
---
bang

Noun
(plural bangs)
A sudden percussive noise.

When he struck it with a hammer, there was a loud bang.

An explosion.
(US) The symbol !, known as an exclamation point.

An e-mail address with an ! is called a bang path.

(mathematics) A factorial, in mathematics, because the factorial of n is often written as n!
(figuratively) An act of sexual intercourse.
An offbeat figure typical of reggae songs and played on guitar and piano.
(slang, mining) An explosive product.

Load the bang into the hole.

(slang, US, Boston area) An abrupt left turn.
Verb
(third-person singular simple present bangs, present participle banging, simple past and past participle banged)
(intransitive) To make sudden loud noises, and often repeatedly, especially by exploding or hitting something.

The fireworks banged away all through the night.
Stop banging on the door. I heard you the first time!
My head was banging after drinking all night at the concert.

(intransitive) To hit hard.

He banged the door shut.
David and Mary banged into each other.

(slang, figuratively, intransitive) To engage in sexual intercourse.

We can hear the couple banging upstairs.

To cut squarely across, as the tail of a horse, or a person's forelock; to cut (the hair).
Adverb
(comparative more bang, superlative most bang)
Right, directly.

The passenger door was bang against the garage wall.

Precisely.

He arrived bang on time.

With a sudden impact.

Distracted, he ran bang into the opening door.
Origin
From Middle English *bangen, from Old English *bangian, *bangan or Old Norse banga ("to pound, hammer"); both from Proto-Germanic *bang- ("to beat"), from Proto-Indo-European *bʰen- ("to beat, hit, injure"). Cognate with Icelandic banga ("to pound, hammer"), Old Swedish bånga ("to hammer"), Danish banke ("to beat"), Low German bangen, bangeln ("to strike, beat"), Danish bengel ("club"), West Frisian bingel, bongel, Dutch bengel ("bell; rascal"), German Bengel ("club"), German bungen ("to throb, pulsate").
Noun
(plural bangs)
(in the plural) Brucellosis, a bacterial disease
Origin
Shortened from Bang's disease.
See also:
bāng
---
bang - Computer Definition
---