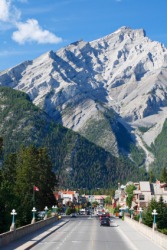 A road leading into Banff.
---
Banff
former county of NE Scotland

town in SW Alberta, Canada: summer & winter resort: pop. 6,000

Origin of Banff

after the county, birthplace of an early present tense of the Canadian Pacific Railway
---
Banff
A town of southwest Alberta, Canada, in the Rocky Mountains near Lake Louise surrounded by Banff National Park.
---
Banff
Origin
From Scottish Gaelic
---