crash

crash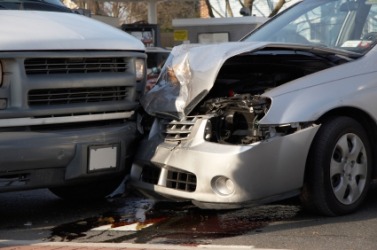 Two cars have crashed.
adjective
Crash is defined as a quick or intense effort to complete a goal.

An example of crash used as an adjective is the term a "crash diet" which means a diet that makes people lose weight very quickly.
noun
The definition of a crash is a loud and sudden noise or a violent smashing.

An example of a crash is a booming noise when two cars bang into each other.
An example of a crash is a heavy object falling to the ground and breaking.
verb
Crash means to violently smash or break or to make a loud and sudden noise.

An example of crash is for a large glass bowl to fall and shatter on the ground.
An example of crash is for a car to smash into another, causing a very loud sound.
---
crash
to fall, collide, or break with force and with a loud, smashing noise

to make a sudden, loud noise, as of something falling and shattering
to move or go with such a noise

to fall or land violently out of control so as to be damaged or smashed: said of aircraft
to come to sudden ruin; collapse; fail: their business crashed

Slang

to sleep
to get a place to sleep temporarily

Slang

to come down swiftly from the euphoria induced by a drug

Comput.

to become inoperable because of a malfunction in the equipment or an error in the program
Origin of crash
Middle English
crashen,
probably echoic variant, variety of
craken
(see crack); akin to Danish
krase,
to crackle, German
krach,
crash, disaster from
krachen,
to crack
to break or dash into pieces; smash; shatter
to cause (a car, airplane, etc.) to crash
to cause to make a crashing sound
to force or impel with or as with a crashing noise: with in, out, through, etc.

Informal

to get into (a party, theater, etc.) without an invitation, ticket, etc.
a loud, sudden noise, as of something falling and shattering
a breaking or smashing into pieces
a crashing, as of a car or an airplane
a sudden fall, collapse, or ruin, esp. of business or a business enterprise
Informal
designed for urgent, concentrated implementation and speedy results:
a crash diet, a crash course in Greek
a coarse cotton or linen cloth with a plain, loose weave, used for towels, curtains, clothes, etc. and in bookbinding
Origin of crash
earlier
crasko
,
crasho
, "Russian linen," probably contr. from Russian
krašenina
, colored linen from
krasit'
, to color from
krasa
, beauty
---
crash
verb
crashed, crash·ing, crash·es
verb
intransitive
a. To break violently or noisily; smash: The dishes crashed to pieces on the floor.

b. To undergo sudden damage or destruction on impact: The car crashed into a tree.

To make a sudden loud noise: The cymbals crash at the end of each measure.
To move noisily or so as to cause damage: went crashing through the woods.
To undergo a sudden severe downturn, as a market or economy.
Computers To stop functioning due to a crash.
Slang To undergo a period of unpleasant feeling or depression as an aftereffect of drug-taking.
Slang

a. To find temporary lodging or shelter, as for the night.

b. To fall asleep from exhaustion.
verb
transitive
To cause to crash: crashed the truck into the signpost.
To dash to pieces; smash: crashed the ice with a sledgehammer.
Informal To join or enter (a party, for example) without invitation.
noun
A sudden loud noise, as of an object breaking: She looked up when she heard the crash outside.

a. A smashing to pieces.

b.

A collision, as between two automobiles. See Synonyms at

collision

.

A sudden severe downturn: a market crash; a population crash.
Computers

a. A sudden failure of a hard drive caused by damaging contact between the head and the storage surface, often resulting in the loss of data on the drive.

b. A sudden failure of a program or operating system, usually without serious consequences.

Slang Mental depression after drug-taking.
adjective
Informal
Of or characterized by an intensive effort to produce or accomplish: a crash course on income-tax preparation; a crash diet.
Origin of crash
Middle English
crasschen
probably akin to
crasen
to shatter
; see
craze
.
Related Forms:
noun
A coarse, light, unevenly woven fabric of cotton or linen, used for towels and curtains.
Starched reinforced fabric used to strengthen a book binding or the spine of a bound book.
Origin of crash
From
Russian
krashenina
colored linen
from
krashenie
coloring
from
krasit'
to color
; see
ker-
3
in Indo-European roots.
---
crash

Noun
(plural crashes)
An automobile, airplane, or other vehicle accident.

She broke two bones in her body in a car crash.
Nobody survived the plane crash

A computer malfunction that is caused by faulty software, and makes the system either partially or totally inoperable.

My computer had a crash so I had to reboot it.

A loud sound as made for example by cymbals.

The piece ended in a crescendo, building up to a crash of cymbals.

A sudden large decline of business or the prices of stocks (especially one that causes additional failures)

the stock market crash

A comedown of a drug.
A group of rhinoceroses.
Verb
(third-person singular simple present crashes, present participle crashing, simple past and past participle crashed)
To collide with something destructively, fall or come down violently.
To severely damage or destroy something by causing it to collide with something else.

I'm sorry for crashing the bike into a wall. I'll pay for repairs.

(slang) (via gatecrash) To attend a social event without invitation.

We weren't invited to the party so we decided to crash it.

(management) To accelerate a project or a task or its schedule by devoting more resources to it.
(intransitive) To make or experience informal temporary living arrangements.
(computing, software, intransitive) To terminate extraordinarily.

If the system crashes again, we'll have it fixed in the computer shop.

(computing, software) To cause to terminate extraordinarily.

Double-clicking this icon crashes the desktop.

(intransitive) To experience a period of depression and/or lethargy after a period of euphoria, as after the euphoric effect of a psychotropic drug has dissipated.
Origin
From Middle English crasschen ("to break into pieces"), of unknown origin, possibly onomatopoeia.
Noun
(uncountable)
(fibre) Plain linen.
Origin
From Russian крашенина (krašenína, "coarse linen").
---
crash - Computer Definition
---