collapse

col·lapse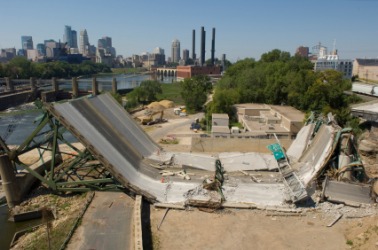 A portion of a collapsed freeway.
verb
The definition of collapse means to cave in, to fall or to break down into pieces when the support to stand is lost.

An example of to collapse is someone falling to the ground when their knees give way after the person hears terrible news.
---
collapse
intransitive verb
-·lapsed′

,

-·laps′ing
to fall down or fall to pieces, as when supports or sides fail to hold; cave in; shrink together suddenly
to break down suddenly; fail; give way: the enemy's defense collapsed

to break down or fail suddenly in health or physical strength
to fall down, as from a blow or exhaustion
to fall or drop drastically, as in value or force

to fold or come together compactly
Origin of collapse
from Classical Latin
collapsus,
past participle of
collabi
from
com-
, together +
labi,
to fall: see lap
the act of collapsing; a falling in or together; failure or breakdown, as in business or health
---
collapse
verb
col·lapsed, col·laps·ing, col·laps·es
verb
intransitive
To fall down or inward suddenly; cave in.
To break down suddenly in strength or health and thereby cease to function: a monarchy that collapsed.
To fold compactly: chairs that collapse for storage.
verb
transitive
To cause to fold, break down, or fall down or inward.
noun
The act of falling down or inward, as from loss of supports.
An abrupt failure of function, strength, or health; a breakdown.
An abrupt loss of perceived value or of effect: the collapse of popular respect for the integrity of world leaders.
Origin of collapse
Latin
collābī
collāps-
to fall together
com-
com-
lābī
to fall
Related Forms:
---
collapse

Verb
(third-person singular simple present collapses, present participle collapsing, simple past and past participle collapsed)
Noun
(plural collapses)
The act of collapsing
Constant function, one-valued function (in automata theory) (in particular application causing a reset)
Origin
From Latin collapsus (past participle of collabi)
---