cave

cave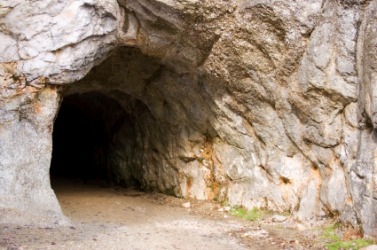 The entrance to a cave.
noun
The definition of a cave is a hollow place, particularly one inside the earth.

An example of a cave is where bats live.
An example of a cave is a wine cellar which has been cut into a hillside.
verb
Cave is defined as to hollow out, to explore hollowed out places, or to give in.

An example of cave is to hollow out a pumpkin.
An example of cave is to explore caverns in a mountain.
An example of cave is for a parent to give in to her teenager's pleas for a later curfew.
---
cave
a hollow place inside the earth, usually an opening, as in a hillside, extending back horizontally; cavern
Origin of cave
Middle English and Old French from Classical Latin
cava
, feminine of
cavus
, hollow from Indo-European base an unverified form
?eu-
, a swelling, arch, cavity
transitive verb
caved

,

cav′ing
to hollow out; make a hollow in
Origin of cave
< cavethe noun
to cave in
to explore caves
cave in
to fall or sink in or down; collapse
to make collapse

Informal

to give way; give in; yield
---
cave
noun
A hollow or natural passage under or into the earth, especially one with an opening to the surface.
A storage cellar, especially for wine.
verb
caved, cav·ing, caves
verb
transitive
To dig or hollow out.
To cause to collapse or fall in. Often used with in: The impact caved in the roof of the car.
verb
intransitive
To fall in; collapse. Often used with in: The walls caved in during the earthquake.
To give up all opposition; yield. Often used with in: The school committee caved in to the demands of parents.
To explore caves.
Origin of cave
Middle English
from
Old French
from
Latin
cava
from
neuter pl. of
cavus
hollow
; see
keuə-
in Indo-European roots.
---
cave

---
cave - Computer Definition
(Computer Automatic Virtual Environment) A virtual reality system that uses projectors to display images on three or four walls and the floor. Special glasses make everything appear as 3D images and also track the path of the user's vision. CAVE was the first virtual reality system to let multiple users participate in the experience simultaneously. Known as a "spatially immersive display," it was developed by the Electronic Visualization Laboratory at the University of Illinois in the early 1990s. See head mounted display and virtual reality.
---