noun
The definition of a cave is a hollow place, particularly one inside the earth.

An example of a cave is where bats live.
An example of a cave is a wine cellar which has been cut into a hillside.
verb
Cave is defined as to hollow out, to explore hollowed out places, or to give in.

An example of cave is to hollow out a pumpkin.
An example of cave is to explore caverns in a mountain.
An example of cave is for a parent to give in to her teenager's pleas for a later curfew.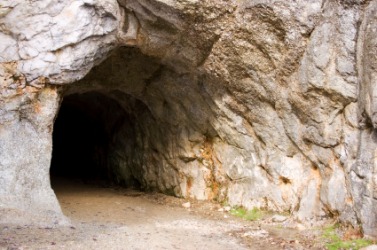 The entrance to a cave.
---
cave
noun
a hollow place inside the earth, usually an opening, as in a hillside, extending back horizontally; cavern
Origin of cave
Middle English and amp; Old French ; from Classical Latin
cava
, feminine of
cavus
, hollow ; from Indo-European base an unverified form
eu-
, a swelling, arch, cavity
intransitive verb
to cave in
to explore caves
cave in
to fall or sink in or down; collapse
to make collapse

Informal

to give way; give in; yield
---
cave
noun
A hollow or natural passage under or into the earth, especially one with an opening to the surface.
A storage cellar, especially for wine.
verb
caved
caved
,
cav·ing
,
caves
verb
, transitive
To dig or hollow out.
To cause to collapse or fall in. Often used with in: The impact caved in the roof of the car.
verb
, intransitive
To fall in; collapse. Often used with in: The walls caved in during the earthquake.
To give up all opposition; yield. Often used with in: The school committee caved in to the demands of parents.
To explore caves.
Origin of cave
Middle English, from Old French, from Latin
cava
, from neuter pl. of
cavus
,
hollow
; see
keu&schwa;-
in Indo-European roots.
---
cave
Noun
(plural caves)
A large, naturally-occurring cavity formed underground, or in the face of a cliff or a hillside.

We found a cave on the mountainside where we could take shelter.

A hole, depression, or gap in earth or rock, whether natural or man-made.
A storage cellar, especially for wine or cheese.

This wine has been aged in our cave for thirty years.

A place of retreat, such as a man cave.

My room was a cozy cave where I could escape from my family.

(caving) A naturally-occurring cavity in bedrock which is large enough to be entered by an adult.

It was not strictly a cave, but a narrow fissure in the rock.

(nuclear physics) A shielded area where nuclear experiments can be carried out.
(drilling, uncountable) Debris, particularly broken rock, which falls into a drill hole and interferes with drilling.
(figuratively, also slang) The vagina.
(slang, politics, often "Cave") A group that breaks from a larger political party or faction on a particular issue.
Verb
(third-person singular simple present caves, present participle caving, simple past and past participle caved)
To surrender.

He caved under pressure.

To collapse.

First the braces buckled, then the roof began to cave, then we ran.

To hollow out or undermine.

The levee has been severely caved by the river current.

To engage in the recreational exploration of caves; to spelunk.

I have caved from Yugoslavia to Kentucky.
Let's go caving this weekend.
Origin
Middle English, from Anglo-Norman cave, from Latin cava ("cavity"), from cavus ("hollow"), from Proto-Indo-European *ḱówHwos ("cavity") (compare Irish cúas ("hollow, cavity"), from Proto-Indo-European *ḱówH- (compare Tocharian B throat (k), Albanian cup ("odd, uneven"), Ancient Greek κύαρ (kýar, "eye of needle, earhole"), Old Armenian սոր (sor, "hole"), Sanskrit शून्य (śūnya, "empty, barren, zero")).
Origin
From Latin cavē, second-person singular present active imperative of caveō ("to beware").
---
cave - Computer Definition
(Computer Automatic Virtual Environment) A virtual reality system that uses projectors to display images on three or four walls and the floor. Special glasses make everything appear as 3D images and also track the path of the user's vision. CAVE was the first virtual reality system to let multiple users participate in the experience simultaneously. Known as a "spatially immersive display," it was developed by the Electronic Visualization Laboratory at the University of Illinois in the early 1990s. See head mounted display and virtual reality.
---