upset
[up set′; for n. always, and for adj. also, up′set′]
adjective
Upset means disturbed or sad.

An example of upset is a person who has just learned that she did not get into her top choice school.
noun
The definition of an upset is an unexpected victory.

An example of upset is an underdog team winning over the champions.
verb
Upset is defined as to disturb physically, mentally or emotionally.

An example of upset is to make someone cry.
An example of upset is to tip over a glass.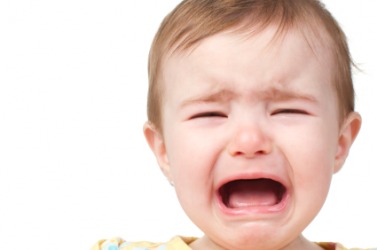 This baby is very upset.
---
upset definition by Webster's New World
transitive verb
upset, upsetting
Obsolete

to set up; erect

to tip over; overturn: to upset a vase
to overthrow or defeat unexpectedly

to disturb the functioning, fulfillment, or completion of: to upset a busy schedule
to disturb mentally or emotionally: upset by bad news
to disturb physically; make sick: to upset the stomach

Mech.

to shorten and thicken (a red-hot iron) by beating on the end
to shorten (a metal tire) in the process of resetting it
Origin: Middle English upsetten: see up and amp; set
intransitive verb
to become overturned or upset
noun
an upsetting or being upset; specif.,

a tipping over, knocking over, etc.
an unexpected victory or defeat
a disturbance or disorder, specif. of an emotional or physical nature

Mech.

a swage used for upsetting
an upset piece or part
adjective
Rare

set up; erected

tipped over; overturned
disturbed or disordered
Webster's New World College Dictionary Copyright © 2010 by Wiley Publishing, Inc., Cleveland, Ohio. Used by arrangement with John Wiley & Sons, Inc.
---
upset definition by American Heritage Dictionary
verb
up·set
,
up·set·ting
,
up·sets
verb
, transitive
To cause to turn or tip over; capsize.
To disturb the functioning, order, or course of: Protesters upset the meeting by chanting and shouting.
To distress or perturb mentally or emotionally: The bad news upset me.
To overthrow; overturn: upset a will. See Synonyms at overthrow.
To defeat unexpectedly (an opponent favored to win).
To make (a heated metal bolt, for example) shorter and thicker by hammering on the end.
verb
, intransitive
To become overturned; capsize.
To become disturbed.
noun
The act of upsetting or the condition of being upset.
A disturbance, disorder, or state of agitation.
A game or contest in which the favorite is defeated.

a. A tool used for upsetting; a swage.

b. An upset part or piece.
adjective
Having been overturned; capsized.
Exhibiting signs and symptoms of indigestion: an upset stomach.
In a state of emotional or mental distress; distraught: upset parents.
Origin: Middle English upsetten, to set up : up-, up- + setten, to set; see set 1.
Related Forms:
upset
Variant of upset
transitive verb
upset, upsetting
Obsolete

to set up; erect

to tip over; overturn: to upset a vase
to overthrow or defeat unexpectedly

to disturb the functioning, fulfillment, or completion of: to upset a busy schedule
to disturb mentally or emotionally: upset by bad news
to disturb physically; make sick: to upset the stomach

Mech.

to shorten and thicken (a red-hot iron) by beating on the end
to shorten (a metal tire) in the process of resetting it
Origin: Middle English upsetten: see up and amp; set
intransitive verb
to become overturned or upset
noun
an upsetting or being upset; specif.,

a tipping over, knocking over, etc.
an unexpected victory or defeat
a disturbance or disorder, specif. of an emotional or physical nature

Mech.

a swage used for upsetting
an upset piece or part
adjective
Rare

set up; erected

tipped over; overturned
disturbed or disordered