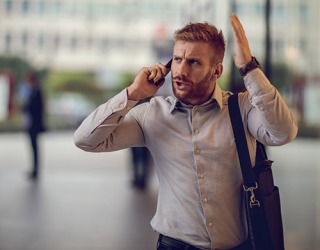 Eric got riled up when he missed his flight because the traffic on the way to the airport made him late.
verb
Rile is defined as to anger or annoy.

An example of rile is to constantly tease a person to make them mad.
---
rile
transitive verb
riled

,

ril′ing
roil
to anger; irritate
Origin of rile
variant, variety of roil
---
rile
---
rile

Verb
(third-person singular simple present riles, present participle riling, simple past and past participle riled)
to make angry
to stir or move from a state of calm or order

Money problems rile the underpaid worker every day.
Mosquitoes buzzing in my ear really rile me.
It riles me that she never closes the door after she leaves.
Origin
From dialectical pronunciation of roil.
---