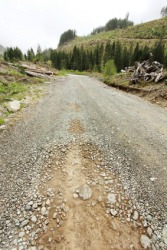 A gravel road.
noun
The definition of gravel is a mix of rock pieces or small rocks.

An example of gravel is what is used to cover a country driveway.
verb
To gravel means to irritate or confuse.

An example of gravel is to answer interview questions with vague responses.

Gravel is defined as to cover a walkway or driveway with a mixture of small rocks and pebbles.

Covering a dusty driveway with small pebbles to keep the dust down is an example of gravel.
---
gravel
a loose mixture of pebbles and rock fragments coarser than sand, often mixed with clay, etc.

Med.

a deposit of small concretions that form in the kidneys or gallbladder and that may be retained, passed on to the urinary bladder, or passed from the body
Origin of gravel
Middle English from Old French
gravelle
, diminutive of
grave
, coarse sand, seashore from or akin to Gaulish an unverified form
grava
, stone from Indo-European base an unverified form
ghreu-
, to rub hard, pulverize from source grit
transitive verb
-·eled

or

-·elled

,

-·el·ing

or

-·el·ling
to cover (a walk, driveway, etc.) with gravel
to embarrass or perplex

Informal

to irritate or annoy
---
gravel
noun
An unconsolidated mixture of rock fragments or pebbles.
Medicine The sandlike granular material of urinary calculi.
transitive verb
grav·eled, grav·el·ing, grav·els,
or
grav·elled
grav·el·ling
To apply a surface of rock fragments or pebbles to.
To confuse; perplex.
Informal To irritate.
Origin of gravel
Middle English
from
Old French
gravele
diminutive of
grave
pebbly shore
of Celtic origin
---
gravel

---