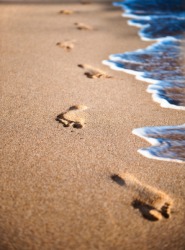 Footprints in the sand on a beach.
adjective
The definition of sand is the color that is a light grayish brown to a yellowish tan.

An example of something sand-colored are the particles on the beach.
noun
Sand is defined as small, loose, gritty particles of rock, or an area with these small particles.

An example of sand is what is found at the beach or on the desert.
verb
Sand means to sprinkle with sand, or to smooth the surface using sand particles or sandpaper.

An example of sand is to rub back and forth to smooth out a rough floor with sandpaper.
---
sand
loose, gritty particles of eroded or weathered rock, varying in size from about mm to 2 mm in diameter, usually deposited along the shores of bodies of water, in riverbeds, or in deserts
[usually pl.] a tract or area of sand; beach, etc.

Origin of sand

with ref. to the sand in an hourglass[usually pl.] particles (of time); moments

Slang

grit; courage; determination
any of the colors characteristic of sand, variously reddish yellow to grayish tan
Origin of sand
Middle English from OE, akin to German
sand
, Old Norse
sandr
from Indo-European base an unverified form
bhes-
, to rub off, pulverize from source Classical Greek
psammos
, Classical Latin
sabulum
to sprinkle or cover with sand
to smooth, polish, or clean with sand, sandpaper, or other abrasive substance
to fill with sand
reddish-yellow to grayish-tan
Sand
(pseud. of Amandine Aurore Lucie Dupin, Baronne Dudevant) 1804-76; Fr. novelist
---
sand
noun
a. Small loose grains of worn or disintegrated rock.

b. Geology A sedimentary material, finer than a granule and coarser than silt, with grains between 0.06 and 2.0 millimeters in diameter.

often sands A tract of land covered with sand, as a beach or desert.

a. The loose, granular, gritty particles in an hourglass.

b. sands Moments of allotted time or duration: "The sands are numb'red that makes up my life" ( Shakespeare )

Slang Courage; stamina; perseverance: "She had more sand in her than any girl I ever see; in my opinion she was just full of sand" ( Mark Twain )
A light grayish brown to yellowish gray.
transitive verb
sand·ed, sand·ing, sands
To sprinkle or cover with or as if with sand.
To polish or scrape with sand or sandpaper.
To mix with sand.
To fill up (a harbor) with sand.
Origin of sand
Middle English
from
Old English
---
sand

---