backbone

back·bone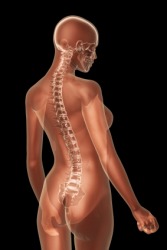 An image of a woman showing the backbone.
noun
The definition of a backbone is an animal's spine, or determination and strength.

An example of a backbone is a human's vertebrae, which form to make the spine.
An example of backbone is a ship captain having the guts to sail into a storm to rescue a missing sailor.
---
backbone
the column of bones along the center of the back of vertebrate animals, including humans, made up of separate bones connected by the spinal cord, ligaments, and disk-shaped cartilage; spine
main support; firmest part
a main ridge or range of mountains
willpower, courage, determination, etc.
back (noun)
Origin of backbone
Middle English
bakbon:
see back and bone
---
backbone
noun
The vertebrate spine or spinal column.
Something, such as the keel of a ship, that resembles a backbone.
The main support or major sustaining factor: the backbone of a thesis.
Strength of character; determination: displayed grit and backbone in facing adversity.
Geology

a. A ridge forming the principal axis of a mountain.

b. The principal mountain ridge, range, or system of a region.

Chemistry The main chain of atoms in a polymer.
Computers A high-speed communications line that connects smaller, local networks to each other, especially in a wide area network.
Related Forms:
---
backbone

---
backbone - Computer Definition

The central or essential part of a network is commonly known as the backbone, or core.The backbone comprises very high capacity elements and subsystems such as transmission systems, multiplexers, switches, and routers. The term is used in the context of a wide area network (WAN), metropolitan area network (MAN), and local area network (LAN). See also core, LAN, MAN, and WAN.
---
The part of a network that handles the major traffic. It employs the highest-speed transmission paths in the network and may also run the longest distances. Smaller networks are attached to the backbone, and networks that directly connect to the end user or customer are called "access networks." A backbone can span a geographic area of any size from a single building to an office complex to an entire country. A backbone can also be as small as a backplane in a single cabinet. See collapsed backbone, backplane, core router, edge router and ISP.
---